ZingZillas – The Album
ZingZillas
ZingZillas – The Album
ZingZillas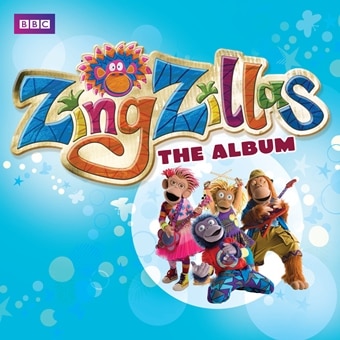 Release information
Release information
Label: Little Demon
• Format: CD
• Date: 04/10/2010
Cat#: LTDMG021
• Barcode: 5014797710214
• Genre: Children's
Track Listing
ZingZillas Theme - Featuring The BBC Concert Orchestra
Welcome To The Island - Featuring Bagpipe Player Martin McKay
Do You Didgeridoo? - Featuring Didgeridoo Player Dhinawan
Happy Day - Featuring Vibraphone Player Jim Hart
The Great ZingZilla Band - Featuring Trumpeter Jay Phelps
Let's Hear You Scat - Featuring Scat Singer Dame Cleo LaineAnd Friends
The Big Zing Opera - Featuring Opera Singers Sarah Connolly And David Milner-Pearce, With The BBC Concert Orchestra
Rocking In A Rock Band - Featuring Rock Band The BMQ
Drift Away - Featuring Harpist CatrinFinch
Bhangra Beat - Featuring Bhangra Band JugnuBhangra
Playing A Solo - Featuring The BBC Concert Orchestra
Boogie Woogie Bubbly Time - Featuring Pianist ElioPace
Litter, Litter, Litter - Featuring ClarinetistJulian Bliss
Making A Big Noise - Featuring Taiko Drummers HitenRyuDaiko
I've Never Heard A Sound As Absurd - Featuring Oompah Band The Bavarian Stompers
Playing Together Makes It Twice As Fun - Featuring Cellist Julian Lloyd-Webber
The Ringing Of A Bell - Featuring Percussionist Dame Evelyn Glennie
Moving House - Featuring Saxophonist James Knight
Have You Ever Lost? - Featuring The BBC Concert Orchestra
Our Island Home - Featuring Gamelan Band Lila Cita
Feel The Rhythm Of Flamenco - Featuring Spanish Guitarist Angus Cruickshank And Castanet Player Veronica Menichelli
Friendship Never Ends - Featuring Organ Player Dr. Lonnie Smith
Bluegrass, Bluegrass - Featuring Bluegrass Band Kickin' Alice
Do You Want To Have Fun? - Featuring Flautist Sir James Galway
Do A, Do A, Do A Duet - Featuring Harmonica Player Phillip Achille
It's Your Birthday - Featuring Traditional Jazz Band The Silk Street Hot 74THOCTOBER
About this release
7TLZingZillas is a music show set on a tropical island where everyone joins in to create ZingZilla music magic. With musical influences spanning the globe from rock to soul, jazz to samba, big band to orchestra, ZingZillas will get its young listeners jumping, swaying and trilling to music from the world over.
Zak, Tang, Panzeeand Drum are music sensation ZingZillas. On their island paradise, this band of primate friends live to play fantastic music. With the help of their mentor, music guru DJ Loose, they create their unique ZingZilla sound just in time for their daily performance, The Big Zing.
As well as these regular island dwellers, the island is visited in every episode by a different musical guest. The ZingZillas always discover their musical guests in a lush jungle glade which pulsates with music. They take inspiration from the guests and incorporate them and their sounds into The Big Zing.