You Baby
The Turtles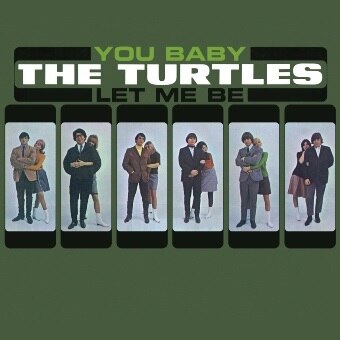 Release information
Release information
Label: Edsel
• Format: CD
• Date: 05/05/2017
Cat#: EDSK7118
• Barcode: 740155711832
• Genre: Pop, Rock
Track Listing
Flyin' High
I Know That You'll Be There
House Of Pain
Just A Room
I Need Someone
Let Me Be
Down In Suburbia
Give Love A Trial
You Baby
Pall Bearing, Ball Bearing World
All My Problems
Almost There
Flyin' High
I Know That You'll Be There
House Of Pain
Just A Room
I Need Someone
Let Me Be
Down In Suburbia
Give Love A Trial
You Baby
Pall Bearing, Ball Bearing World
All My Problems
Almost There
About this release
The Turtles enjoyed eighteen US hit singles between 1965 and 1970, three of which ("Happy Together", "She'd Rather Be With Me" and "Elenore") were also huge hits in the UK. From their original incarnation as surf band The Crossfires, all the way to their final single, the Turtles traversed several different musical paths during their career. It is precisely this power through diversity that makes the Turtles' body of work one of the most rewarding and enjoyable of the 1960's – they never met a genre they didn't like. Edsel Records is proud to present the band's six albums, each as a 2 CD digipak set.
The Turtles' second long player, You Baby (issued in April 1966), showed the band shifting from serious folk-rockers to a good time band with a sense of humour. Headlined by their third hit single, "You Baby" and a reprise of their second, "Let Me Be", both songs were composed by the powerhouse West Coast songwriting team of P.F. Sloan and Steve Barri.
With a booklet note by Andrew Sandoval, this 2 CD digipak edition (exclusive to the UK) has been newly re-mastered in both mono and stereo by Bill Inglot.
CD1 – Mono Version
CD2 – Stereo Version