Wreckless Eric (Vinyl)
Wreckless Eric
Wreckless Eric (Vinyl)
Wreckless Eric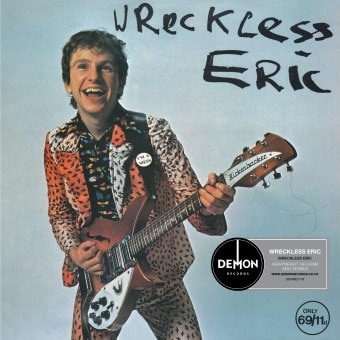 Release information
Release information
Label: Demon Records
• Format: Vinyl
• Date: 12/05/2017
Cat#: DEMREC178
• Barcode: 5014797895232
• Genre: Rock
Sub Genre: New Wave, Punk
Track Listing
Reconnez Cherie
Rags 'N' Tatters
Waxworks
Telephoning Home
Grown Ups
Whole Wide World
Rough Kids
Personal Hygiene
Brain Thieves
There Isn't Anything Else
About this release
First ever stand alone CD release of the classic debut album by Wreckless Eric
Wreckless Eric was one of the original crop of wonderful stars on the infamous Stiff Records label, along with The Damned, Elvis Costello, Ian Dury, Nick Lowe, and a couple of years later Madness.
'Wreckless Eric' was the sixth album release on Stiff Records, released on June 1, 1978, following albums by The Damned, Costello and Dury.
Features Eric's most famous song – the legendary 'Whole Wide World', now critically considered to be one of the best punk rock singles of all time. 'Whole Wide World' has appeared in several films, most recently in the 2006 film 'Stranger Than Fiction' where Will Ferrell starts singing the song while playing the guitar before the original version takes over.