This World And Body (Translucent Gold Vinyl) Signed Edition
Marion
This World And Body (Translucent Gold Vinyl) Signed Edition
Marion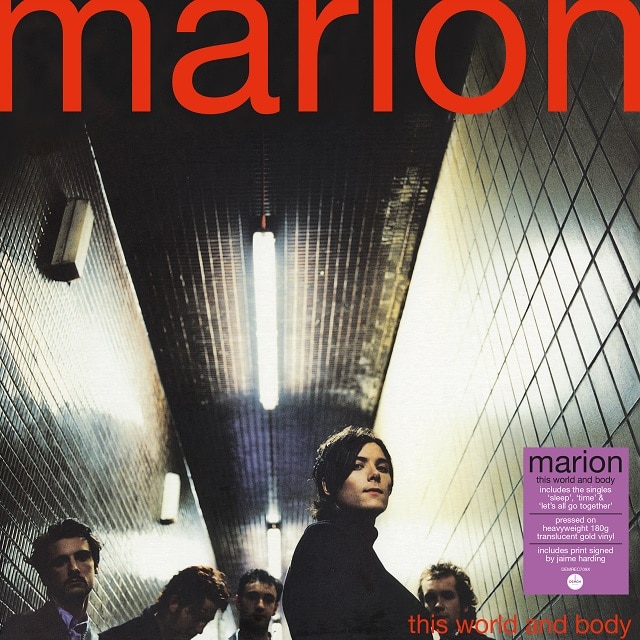 Release information
Release information
Label: Demon Records
• Format: Vinyl
• Date: 08/05/2020
Cat#: DEMREC709X
• Barcode: 5014797903050
• Genre: Alternative, Indie, Rock
Sub Genre: Britpop
Track Listing
Fallen Through
Sleep
Let's All Go Together
Wait
The Only Way
I Stopped Dancing
All For Love
Toys For Boys
Time
Vanessa
Your Body Lies
My Children
About this release
Demon Records is proud to present a new edition of This World And Body, pressed on 180g heavyweight translucent gold vinyl. This edition includes a print of the album artwork, hand signed by Jaime Harding and is strictly limited to 500 copies.
Marion formed in Manchester in 1994, releasing their debut single on Rough Trade. Signed to London Records, the band found themselves bundled in with the 'Britpop' scene, and made their national TV debut by performing 'Sleep' on Channel 4's cult TV show 'The Word' in February 1995. The band gigged throughout 1995, building up a fan base, and supported Morrissey on his 'Boxers' tour.
This World And Body was released in February 1996 and entered the top ten of the UK album chart.