Without A Word (Vinyl)
Hank Marvin
Without A Word (Vinyl)
Hank Marvin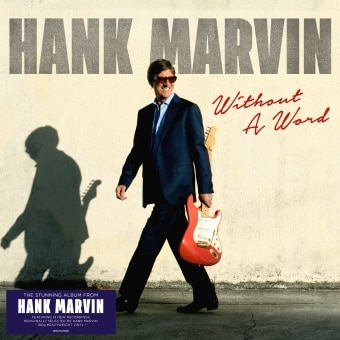 Release information
Release information
Label: Demon Records
• Format: Vinyl
• Date: 02/06/2017
Cat#: DMGTVLPX065
• Barcode: 5014797896109
• Genre: Rock
Track Listing
Don't Get Around Much Anymore
Michelle
Alfie
Theme From 'Poirot'
Are You Lonesome Tonight
Russian Doll
Peter Gunn/Baby Elephant Walk
Moon River
Doctor Who Theme
What A Wonderful World
Cry Me A River
The Fool On The Hill
America
Will You Still Love Me Tomorrow
About this release
This Vinyl LP edition comes in 180g heavyweight black vinyl. Hank Marvin: the man who defined the sound of a generation releases his 16th solo album, his first since the Top 10 success of the eponymously titled 'Hank' in 2014.
Entitled Without A Word the album comprises 14 new recordings all of which given Hank's interpretation of some of his all-time favourite tunes, along with one new original composition; Russian Doll co-written and recorded with his son Ben. Hank Marvin is one of the most influential guitar players of all time. Initially known as the lead guitarist of The Shadows – the band that evolved to become the UK's biggest ever selling instrumental group – Hank has also enjoyed a long and successful solo career lasting almost 60 years Hank was the very first in the UK to own an iconic Fender Stratocaster – when Cliff Richard imported the guitar from the US exclusively for Hank to play – since when generations of guitar players worldwide cite him as the man that inspired them to pick up their first guitar, a tribute confirmed when he regularly features high on the list of polls that determine the greatest guitarists of all time.
Hank's unique sound and subsequent influence on popular music cannot be underestimated.
Extra information about this release