The Wicked Pickett + The Sound of Wilson Pickett
Wilson Pickett
The Wicked Pickett + The Sound of Wilson Pickett
Wilson Pickett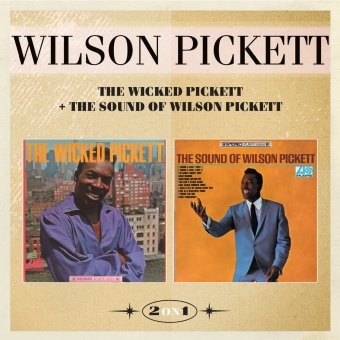 Release information
Release information
Label: Edsel
• Format: CD
• Date: 25/11/2016
Cat#: EDSA5060
• Barcode: 740155506032
• Genre: R&B and Soul, Rock
Sub Genre: Rock N' Roll
Track Listing
Mustang Sally
New Orleans
Sunny
Everybody Needs Somebody To Love
Ooh Poo Pah Doo
She Ain't Gonna Do Right
Knock On Wood
Time Is On My Side
Up Tight Good Woman
You Left The Water Running
Three Time Loser
Nothing You Can Do
Soul Dance Number Three
Funky Broadway
I Need A Lot Of Loving
I Found A Love
You Can't Stand Alone
Mojo Mamma
I Found The One
Something Within Me
I'm Sorry About That
Love Is A Beautiful Thing
I Found A Love Part 1
I Found A Love Part 2
About this release
Wilson Pickett's third and fourth Atlantic albums on one CD, with two bonus tracks. "The Wicked Pickett" (1966) features the million-selling single "Mustang Sally" (perhaps the best-remembered song in the 1991 film "The Commitments"), as well as Pickett's takes on "Everybody Needs Somebody To Love", "Knock On Wood" and "Time Is On My Side".
"The Sound Of Wilson Pickett" (1967) features Pickett's fourth R&B # 1, "Funky Broadway".
The booklet includes lengthy annotation by acknowledged expert Tony Rounce.