White Lightnin': The Solo Box (Vinyl)
Bill Wyman
White Lightnin': The Solo Box (Vinyl)
Bill Wyman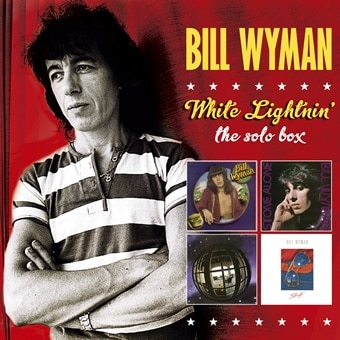 Release information
Release information
Label: Demon Records
• Format: Vinyl
• Date: 12/05/2017
Cat#: DEMRECBOX12
• Barcode: 5014797895935
• Genre: Rock
Track Listing
I Wanna Get Me A Gun
Crazy Woman
Pussy
Mighty Fine Time
Monkey Grip Glue
What A Blow
White Lightnin'
I'll Pull You Thro'
It's A Wonder
A Quarter To Three
Gimme Just One Chance
Soul Satisfying
Apache Woman
Every Sixty Seconds
Get It On
Feet
Peanut Butter Time
Wine And Wimmen
If You Wanna Be Happy
What's The Point
No More Foolin'
Ride On Baby
A New Fashion
Nuclear Reactions
Visions
Jump Up
Come Back Suzanne
Rio De Janeiro
Girls
Seventeen
(Si, Si) Je Suis Un Rock Star
Come Back Suzanne [demo]
If I Was A Doo Doo Doo
Like A Knife
Stuff (Can't Get Enough)
Leave Your Hat On
This Strange Effect
Mama Rap
She Danced
Fear Of Flying
Affected By The Towns
Blue Murder (lies)
About this release
This box contains all four solo albums by Bill Wyman, the first Rolling Stone to release a solo record. The first two (from 1974 and 1976, both issued on Rolling Stones Records) were made the help of a galaxy of musical friends like Lowell George, Dr John, Joe Walsh, Van Morrison, the Pointer Sisters, Danny Kortchmar, Dallas Taylor, Leon Russell, Bob Welch and Nicky Hopkins.
The eponymous third album was home to Bill's 1981 big hit single "(Si Si) Je Suis Un Rock Star" as well as follow-up hits "Come Back Suzanne", "A New Fashion" and "Visions, while fourth album "Stuff" appeared in 1992, originally in Japan only.
The albums are now issued on vinyl for the first time since their original release (and 'Stuff' on vinyl for the first time ever),n gathered together in a beautiful rigid slipcase. The new inner sleeves feature all the lyrics and the musician credits.