When The World Knows Your Name
Deacon Blue
When The World Knows Your Name
Deacon Blue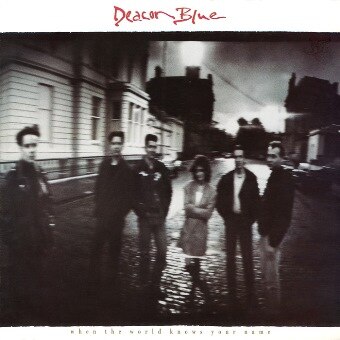 Release information
Release information
Label: Edsel
• Format: CD, DVD & Blu-ray
• Date: 22/10/2012
Cat#: EDSJ9003
• Barcode: 740155900335
• Genre: Alternative, Pop, Rock
Track Listing
Queen Of The New Year
Wages Day
Real Gone Kid
Love And Regret
Circus Lights
This Changing Light
Sad Loved Girl
Fergus Sings The Blues
The World Is Lit By Lightning
Silhouette
One Hundred Things
Your Constant Heart
Orphans
Real Gone Kid [extended 12" version]
Little Lincoln
Born Again
It's Not Funny Anymore
Wages Day [extended 12" version]
Take Me To The Place
Take The Saints Away
Trampoline
Fergus Sings The Blues [extended 12" version]
Long Window To Love
London A-Z
Back Here In Beanoland
Love And Regret [extended 12" version]
Down In The Flood
Undeveloped Heart
Love And Regret / It's All In The Game [live]
Spanish Moon / Down In The Flood [live]
Dark End Of The Street [live]
When Will You (Make My Telephone Ring)? [live]
Down In The Flood [minimal mix]
Queen Of The New Year [extended 12" version]
My America
Las Vegas
Sad Loved Girl [long version]
Circus Light [acoustic version]
Queen Of The New Year [live]
Chocolate Girl [live]
Undeveloped Heart [live]
Town To Be Blamed [live]
Love You Say
Let Your Hearts Be Troubled
Is It Cold Beneath The Hill?
Killing The Blues
Gentle Teardrops
That Country
Christine
Real Gone Kid [version 1]
Real Gone Kid [version 2]
Wages Day
Fergus Sings The Blues
Love And Regret
Queen Of The New Year
About this release
Deacon Blue's second album was recorded throughout 1988 and features their breakthrough hits "Real Gone Kid" (# 8), "Wages Day" (# 18), "Fergus Sings The Blues" (# 14), "Love And Regret" (# 28) and "Queen Of The New Year" (# 21). Issued in April 1989, the album reached # 1 and achieved Double Platinum status in the UK alone (600,000 sales).
This 3 CD and DVD casebound book reissue contains all the many non-album b-sides – exclusive songs, remixes, cover versions and live versions – plus recordings from this era eventually issued on "Ooh Las Vegas", along with a DVD featuring the promo videos.
The booklet features a newly-written note by Ricky Ross, all the lyrics to his songs, and ephemera and photos from his own collection.