Weekender: Soundtrack Gems & Further Inspiration
Various Artists
Weekender: Soundtrack Gems & Further Inspiration
Various Artists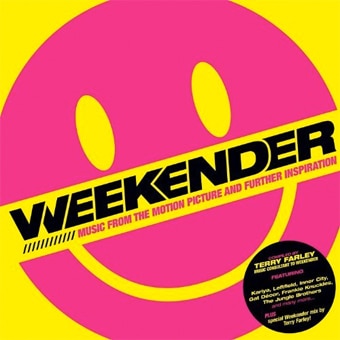 Release information
Release information
Label: Edsel
• Format: CD, Digital
• Date: 09/09/2013
Cat#: HURTXCD113
• Barcode: 5014797021136
• Genre: Dance
Track Listing
Let Me Love You For Tonight - Kariya Original House Club 12" Mix 6.22
Move Your Body - Marshall Jefferson Original 12" Mix 7.47
Good Life - Inner City Magic Juan's 12" Mix 8.29
Pennies From Heaven - Inner City Kevin's Tunnel 12" Mix 5.21
Passion - Gat Décor Naked 12" Mix 7.44
Jibaro - Elkin & Nelson Original 12" Mix 7.30
La Passionara - The Blow Monkeys Tapas Rappers 12" Mix 5.55
Not Forgotten" - Leftfield Hard Hands 12" Remix 7.38
Mentasm" - Second Phase Original 12" Mix 4.24
Golden Girls - Kinetic Frank De Wulf 12" Remix 5.50
Papau New Guinea - Future Sound Of London Original 12" Mix 5.00
Let The Music (Move You) - The Night Writers Original 12" Mix 7.56
Baby Wants To Ride - Frankie Knuckles feat Jamie Principle Original 12" Mix 8.33
Dreams Of Santa Anna - Orange Lemon Original 12" Mix 8.18
How Do You See Me Now - Extortion feat Dihan Brooks Original 12" Remix 7.49
Can't Get Enough - Liz Torres feat Edward Crosby Original Spanish 12" Mix 4.47
Land Of Confusion - Armando Original Confusion 12" Mix 5.13
I'll House You - The Jungle Brothers Original 12" Mix 4.57
Weekend - Original Wam Bam 12" Mix - The Todd Terry Project Original 12" Mix 5.47
As Always - Ricky Dillard Original Lovin' House 12" Mix 14.04
Time Marches On - Original 12" Mix 5.15 Jungle Wonz Exclusive Weekender Re - Edit
Baby Wants To Ride - Frankie Knuckles ft Jamie Principle Simpson & Neville Re - Edit 5.30
Let The Music (Move You) (Original 12" Mix)
Can't Get Enough (Original Spanish 12" Mix)
Baby Wants To Ride
I'll House You (Original 12" Mix)
Land Of Confusion (Original Confusion 12" Mix)
Weekend (Original Wam Bam 12" Mix)
Move Your Body (Original 12" Mix)
Time Marches On (Original 12" Mix)
Dreams Of Santa Anna (Original 12" Mix)
How Do You See Me Now (Original 12" Mix)
Let Me Love You For Tonight (Original House Club 12" Mix)
As Always (Original Lovin' House 12" Mix)
About this release
1990. England. A revolution is building across the UK. Dilapidated warehouses and factories come to life at night. Euphoric teens defy police bans and cordons to embrace life and the dancefloor. Acid house has arrived and friends Matt (Henry Lloyd-Hughes – 'The In- Betweeners') and Dylan (Jack O'Connell – 'Skins') are at the heart of it. This is their story. Welcome to 'Weekender' – a brand new film that documents the rise of House Music and Rave culture in the UK in the late 1980's/early 90's.To tie-in with the film's release Harmless are proud to launch 'Weekender – Soundtrack Gems + More Inspiration' – a 3 X CD deluxe
package compiled by Terry Farley which contains one CD featuring the best tracks from the film, a second CD featuring further inspiration
from the era and a bonus third CD which features an exclusive Terry Farley 'Weekender' continuous mix.The album contains ONLY the correct mixes from the era and many tunes and mixes which are either long deleted or have NEVER been
available on CD before. A treasure chest of rare and collectible House Music from the vintage era!The package includes a 12 page booklet with photos and key artwork from the film plus extensive liner notes from House music veteran
Terry Farley.