We Could be Together
Debbie Gibson
We Could be Together
Debbie Gibson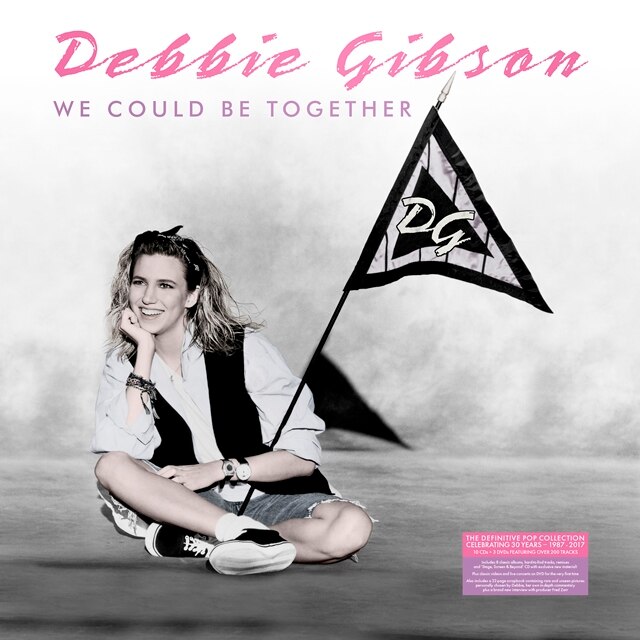 Release information
Release information
Label: Edsel
• Format: CD, DVD & Blu-ray
• Date: 20/10/2017
Cat#: DGBOOK01
• Barcode: 5014797896352
• Genre: Pop
Sub Genre: Classic Pop
Track Listing
Out Of The Blue
Staying Together
Only In My Dreams
Foolish Beat
Red Hot
Wake Up To Love
Shake Your Love
Fallen Angel
Play The Field
Between The Lines
Only In My Dreams [Extended Club Mix]
Shake Your Love [Club Mix]
Out Of The Blue [Club Mix]
Staying Together [Remix]
Foolish Beat [Extended Mix]
Who Loves Ya Baby?
Lost In Your Eyes
Love In Disguise
Helplessly In Love
Silence Speaks (A Thousand Words)
Should've Been The One
Electric Youth
No More Rhyme
Over The Wall
We Could Be Together
Shades Of The Past
Lost In Your Eyes [Piano & Vocal Mix]
Silence Speaks (A Thousand Words) [Acoustic Mix]
No More Rhyme [Acoustic Mix]
We Could Be Together [Campfire Mix]
Electric Youth [Latin Edit]
Over The Wall [Dub Version]
We Could Be Together [Extended Version]
Another Brick Falls
Anything Is Possible
Reverse Psychology
One Step Ahead
Stand Your Ground
Deep Down
It Must've Been My Boy
Lead Them Home My Dreams
One Hand, One Heart
Sure
Negative Energy
Mood Swings
Try
In His Mind
Where Have You Been?
This So-Called Miracle
So Close To Forever
The Most Beautiful Love Song
Love Or Money
Do You Have It In Your Heart?
Free Me
Shock Your Mama
Losin' Myself
How Can This Be?
When I Say No
Little Birdie
Kisses 4 One
Tear Down These Walls
Goodbye
Eyes Of The Child
Love Or Lust
Kisses 4 One Percappella
Losin' Myself T-Ray's Acoustic Mix
Free Me Extended Mix
For Better Or Worse
Didn't Have The Heart
Will You Love Me Tomorrow?
Dancin' In My Mind
Dontcha Want Me Now?
Can't Do It Alone
Think With Your Heart
Too Fancy
You Don't Have To See
Two Young Kids
Interlude / Tony's Rehearsal
Let's Run Away
Call Yourself A Lover
You Know Me
Prelude
Ode To A Would-Be Lover
Moonchild
Only Words
Naturally
Nobody's You
Cry Tonight
Where I Wanna Be
Butterflies Are Free
Give Me Your Love
Just Wasn't Love
I Can't
People
Don't Rain On My Parade
I Will Let You Go
My Boyfriend's Girlfriend [Maxi-Pop]
You Belong To Me
Only In My Dreams [1997 Dance Edit]
Only Words [Dance Edit]
My Boyfriend's Girlfriend [Unplugged]
M.Y.O.B.
Your Secret
What You Want
Down That Road
The One
Wishing You Were Here
What Part Of No
In Blue
Jaded
Knock Three Times with Tony Orlando
The Last Word
Light The World with Peabo Bryson
Comes Right Back [Campfire Mix]
M.Y.O.B. [Dance Mix]
Your Secret [Hot Vocal Radio Mix]
Tsunami
Say Yes
I Love You
Roman Hik
Suddenly – Love Story wa Totsuzen ni
True Love
Hitomi o Tojite
Sakurazaka
However
Robinson
Lost In Your Eyes 2010 [English Version]
Sekaiju no Dareyori Kitto with Eric Martin
Lost In Your Eyes 2010 [Japanese Version]
Electric Youth [Deep House Mix]
We Could Be Together [House Mix]
Anything Is Possible [12-Inch Remix]
One Step Ahead [Club Mix]
Losin' Myself [12-Inch Masters At Work]
Free Me [Smoove Free Club Mix]
Only Words [Arena Club Vocal Mix]
Only In My Dreams '98 [Club Mix]
Your Secret [Secret Party Mix]
Medley [Debbie Gibson Mega Mix]
In The Still Of The Night (I'll Remember)
Come Home (Wonder Years)
Without You
Someday with Chris Cuevas
Hopelessly Devoted To You
You're The One That I Want with Craig McLachlan
With All My Heart
Someone You Love with The O'Neill Brothers
Sounds Like Love
Say Goodbye with Jordan Knight
Naked
Already Gone
Rise
Promises
Wonderland [Cutting Room Floor Mix]
Snake Charmer
Famous
RCVR with Big Black Delta
Rise [Revolution Mix]
Dance Dance
Cougar
Pop Circus
Only In My Dreams 2016 [Acoustic Version]
Only In My Dreams
Shake Your Love
Out Of The Blue
Foolish Beat
Staying Together
Lost In Your Eyes
Electric Youth
No More Rhyme
We Could Be Together
Anything Is Possible
This So-Called Miracle
One Hand, One Heart
Someday with Chris Cuevas
Losin' Myself
Shock Your Mama
You're The One That I Want with Craig McLachlan
For Better Or Worse
Didn't Have The Heart
Only Words
What You Want
Already Gone
I Love You
Shake Your Love [12-Inch Version]
Out Of The Blue [12-Inch Version]
Electric Youth [Long Version]
We Could Be Together [Long Version]
Anything Is Possible [UK Version]
Only Words [Dance Version]
Electric Youth Reloaded with Jace Hall
Staying Together
Foolish Beat
Shake Your Love
In The Still Of The Night (I'll Remember)
Lost In Your Eyes
Should've Been The One
Out Of The Blue
Only In My Dreams
We Could Be Together
Crocodile Rock
Who Loves Ya Baby?
Over The Wall
Lost In Your Eyes
Don't Flirt With Me
Dance To The Music
Love Under My Pillow
Should've Been The One
We Could Be Together
No More Rhyme
Electric Youth
For Better Or Worse
Didn't Have The Heart
Your Love Amazes Me
Too Fancy
Lost In Your Eyes
Let's Run Away
Will You Love Me Tomorrow?
About this release
Debbie Gibson burst on the Billboard Pop Charts at 16 years old with the self-penned "Only In My Dreams." She quickly became the youngest artist in history to write, produce and perform a No. 1 song with her hit "Foolish Beat" and entered the Guinness Book of World Records. To date, she is still the youngest female to hold that record and has sold more than 16 million albums worldwide.
Debbie's first-ever full career retrospective celebrating 30 years – 1987-2017 and includes over 200 tracks. All the classic hits including Shake Your Love, Foolish Beat, Only In My Dreams, Electric Youth, You're The One That I Want, Lost In Your Eyes and many more…
Includes Eight albums – Out Of The Blue, Electric Youth, Anything Is Possible, Body Mind Soul plus the first-ever UK release of Think With Your Heart, Deborah, M.Y.O.B. and Ms. Vocalist. Includes a 'Remixes CD' – featuring classic 12-inch mixes from Shep Pettibone, Steve 'Silk' Hurley, Masters At Work, Harding/Curnow, Junior Vasquez and more.
Stage, Screen & Beyond CD – featuring sought-after rarities from throughout Debbie's career plus exclusive, previously unheard new recordings! Classic videos and live concerts on DVD for the very first time plus exclusive bonus footage.
Lavish media book packaging with 32-page 'scrapbook' containing rare and unseen pictures personally chosen by Debbie. Debbie's own in-depth commentary plus a brand new interview with producer Fred Zarr.
CD1 – OUT OF THE BLUE plus Bonus Tracks
CD2 – ELECTRIC YOUTH plus Bonus Tracks
CD3 – ANYTHING IS POSSIBLE plus Bonus Tracks
CD4 – BODY MIND SOUL plus Bonus Tracks
CD5 – THINK WITH YOUR HEART plus Bonus Tracks
CD6 – DEBORAH plus Bonus Tracks
CD7 – M.Y.O.B. plus Bonus Tracks
CD8 – MS. VOCALIST plus Bonus Tracks
CD9 – THE REMIXES
CD10 – STAGE, SCREEN & BEYOND
DVD1 – THE VIDEOS plus Bonus Footage
DVD2 – LIVE IN PITTSBURGH: The Out Of The Blue Tour, 1988 and LIVE IN ATLANTA: The Electric Youth World Tour, 1989
DVD3 – LIVE IN NASHVILLE: Tin Pan South, 1995
Extra information about this release