Way Beyond Blue
Catatonia
Way Beyond Blue
Catatonia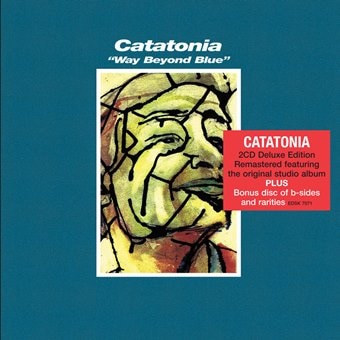 Release information
Release information
Label: Edsel
• Format: CD
• Date: 20/04/2015
Cat#: EDSK7071
• Barcode: 740155707132
• Genre: Alternative, Indie, Rock
Sub Genre: Britpop
Track Listing
Lost Cat
Sweet Catatonia
Some Half Baked Ideal Called Wonderful
You've Got A Lot To Answer For
Infantile
Dream On
Bleed
This Boy Can't Swim
Painful
Whale
For Tinkerbell
Way Beyond Blue
Gyda Gwên (With A Smile) [original hidden track]
Blow The Millennium, Blow
Beautiful Sailor
Tourist
Acapulco Gold
Cut You Inside [demo]
To And Fro
All Girls Are Fly
Indigo Blind
Sweet Catatonia [live]
Whale [live]
Do You Believe In Me?
Dimbran
You Can
All Girls Are Fly (Da-De? Remix)
Blow The Millennium, Blow [Splott Remix]
Do You Believe In Me? [live]
Way Beyond Blue [live]
Painful [live]
Bleed [live]
About this release
Edsel is proud to issue all four Catatonia albums, all originally issued on Warners' blanco y negro label between 1996 and 2001, and now reissued in deluxe casebound book expanded editions, the first three with entire CDs of bonus tracks, and the fourth with a DVD of promo videos.
Catatonia's 1996 debut album delivered on the promise of the previous few years' indie releases and the band's growing reputation as an exciting live attraction. Includes the singles "Bleed", "Lost Cat" and their first Top 40 hit "You've Got A Lot To Answer For".
This remastered 2 CD digipack edition features nineteen bonus tracks, all b-sides not previously compiled.
CD1 – Way Beyond Blue
CD2 – Bonus Tracks
Extra information about this release