Walking Wounded
Everything But The Girl
Walking Wounded
Everything But The Girl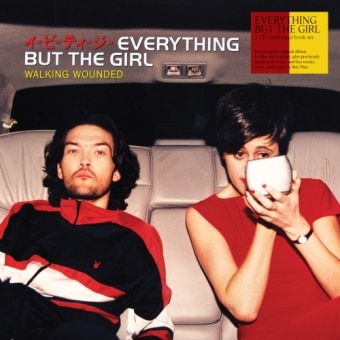 Release information
Release information
Label: Edsel
• Format: CD
• Date: 04/09/2015
Cat#: EDSK7098
• Barcode: 740155709839
• Genre: Pop, Rock
Track Listing
Before Today
Wrong
Single
The Heart Remains A Child
Walking Wounded
Flipside
Big Deal
Mirrorball
Good Cop Bad Cop
Wrong [Todd Terry Remix]
Walking Wounded [Omni Trio Mix]
Corcovado
Before Today [live in Tokyo, 1997]
Single [live in Tokyo, 1997]
Wrong [live in Tokyo, 1997]
Mirrorball [demo]
Flipside [demo]
Above The Law [demo]
Speeding Car Side On [demo]
Walking Wounded [Dave Wallace Remix]
Wrong [Mood II Swing Dub]
Wrong [Deep Dish Remix Edit]
Single [Photek Remix]
Single [Brad Wood Memphis Remix]
Before Today [Nellee Hooper unreleased 1996 Remix]
Before Today [Adam F Remix]
Before Today [Chicane Remix]
Before Today [Dilinja Remix]
Mirrorball [DJ Jazzy Jeff Sole Full Remix]
Corcovado [Knee Deep Classic Club Mix – Ben Watt vocal re-edit]
About this release
Following the huge success of Edsel's 2 CD casebound book editions of the seven albums that Everything But The Girl recorded for Blanco y Negro and Warners, we now complete the set with their last two albums, recorded for the Virgin label.
Eighth album "Walking Wounded", issued in 1996, was produced by Ben Watt and features the Top 10 singles "Walking Wounded" and "Wrong", as well as "Single" and "Before Today". Ben has personally selected eleven remixes for CD 2, including an unreleased Nellee Hooper remix of "Before Today". Also featured is non-album single "Corcovado", three previously unreleased live performances from Tokyo in 1997, and four previously unreleased demos from Ben's own archive.
The book features a candid note by Ben and Tracey along with the lyrics, as well as memorabilia, previously unseen photos and ephemera from their own collection.
CD1 – Walking Wounded (tracks 1-11), Bonus Tracks (tracks 12-15)
CD2 – Bonus Tracks (tracks 1-4), Remixes (tracks 5-15)