Village People – The Album Collection 1977-1985
Village People
Village People – The Album Collection 1977-1985
Village People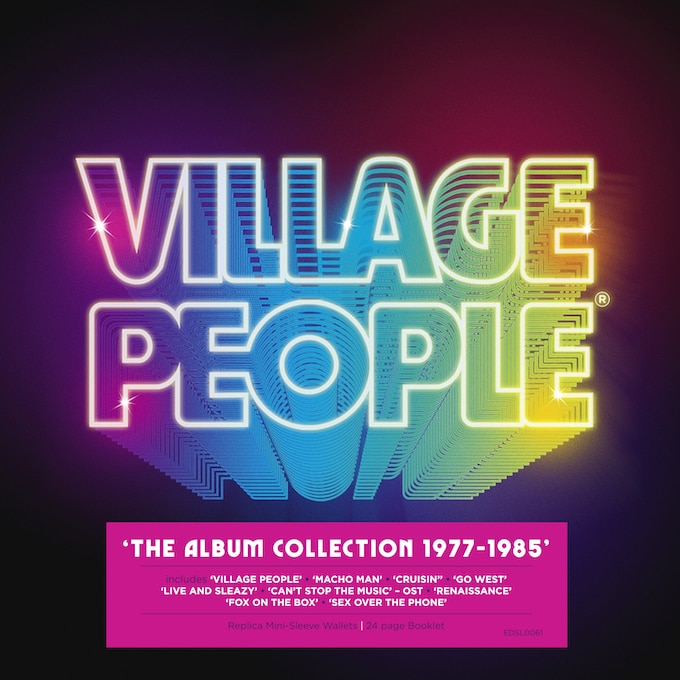 Release information
Release information
Label: Edsel
• Format: CD
• Date: 20/03/2020
Cat#: EDSL0061
• Barcode: 740155726133
• Genre: Disco, Pop
Track Listing
San Francisco (You've Got Me)
In Hollywood (Everybody Is A Star)
Fire Island
Village People
Macho Man
I Am What I Am
Key West
Medley: Just A Gigolo / I Ain't Got Nobody
Sodom And Gomorrah
Y.M.C.A.
The Women
I'm A Cruiser
Hot Cop
My Roomate
Ups And Downs
In The Navy
Go West
Citizens Of The World
I Wanna Shake Your Hand
Get Away Holiday
Manhattan Woman
Fire Island
Hot Cop
San Francisco (You've Got Me)
In Hollywood (Everybody Is A Star)
Macho Man
In The Navy
Y.M.C.A.
Sleazy
Rock & Roll Is Back Again
Ready For The 80's
Save Me (Ballad)
Save Me (Up-Tempo)
Village People - Can't Stop The Music
David London - Samantha
The Ritchie Family - Give Me A Break
Village People - Liberation
Village People - Magic Night
David London - The Sound Of The City
Village People - Milkshake
Village People - Y.M.C.A.
Village People - I Love You To Death
The Ritchie Family - Sophistication
(Do You Wanna) Spend The Night
5 O'Clock In The Morning
Fireman
Jungle City
Action Man
Big Mac
Diet
Food Fight
Fox On The Box
In The Street
Lonely Lady
Everybody Loves The Funk
Success
Spaced Out
Play Bach
Radio Freak
Sex Over The Phone
New York City
Just Give Me What I Want
I Won't Take No For Answer
Power Of The Night
Sexual Education
Sensual
Sex Over The Phone (Nouvel Enregistrement Clubs)
About this release
Village People® were a phenomenon and one of the most successful pop groups of the late-1970s, selling Tens of millions of records worldwide, charting one of the all-time Top 40 best-selling singles.
They were known for their catchy tunes, on-stage costumes and suggestive lyrics but they transcended all barriers. They simply released great pop records, which were mostly Composed and Produced by Jacques Morali for Can't Stop Productions, Inc., who came up with the Group's concept.
This 9 album collection covers the Group's albums from the debut 1977 'Village People', up to 1985's 'Sex Over The Phone', including 1979's Double album 'Live And Sleazy', which has been reproduced within the set on two discs.
The albums are packaged in mini replica sleeves, including gatefold wallets for 'Live And Sleazy' and 'Can't Stop The Music'.
For the 40th anniversary of the group, Victor Willis re-joined and backed by a live band, Village People® continues to thrill concert-goers around the world — as they did back in the day – and as seen in New York's Times Square on New Year's Eve 2019, the eve of a sixth decade of their popularity.
CD1 – VILLAGE PEOPLE
CD2 – MACHO MAN
CD3 – CRUISIN'
CD4 – GO WEST
CD5 – LIVE AND SLEAZY CD1
CD6 – LIVE AND SLEAZY CD2
CD7 – CAN'T STOP THE MUSIC – The Original Soundtrack Album
CD8 – RENAISSANCE
CD9 – FOX ON THE BOX
CD10 – SEX OVER THE PHONE