Village People – Gold
Village People
Village People – Gold
Village People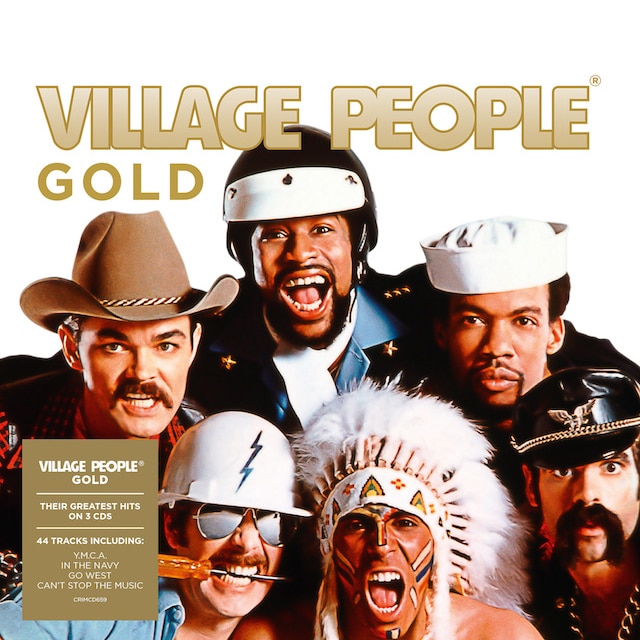 Release information
Release information
Label: Crimson Productions
• Format: CD
• Date: 15/11/2019
Cat#: CRIMCD659
• Barcode: 654378065927
• Genre: Disco, Pop
Track Listing
Y.M.C.A.
In The Navy
Go West
I'm A Cruiser
In Hollywood (Everybody Is A Star)
Can't Stop The Music
New York City
Sleazy
Action Man
Liberation
Fireman
5 O'Clock In The Morning
Jungle City
Fire Island
Hot Cop
I Wanna Shake Your Hand
Village People
Macho Man
San Francisco (You've Got Me)
Just A Gigolo / I Ain't Got Nobody
I Am What I Am
Ready For The '80s
Magic Night
Sex Over The Phone
Y.M.C.A. '93 Remix
Can't Stop The Music '93 Remix
Key West
America
(Do You Wanna) Spend The Night
Fox On The Box
Play Bach
We Want You (Megamix 98)
Y.M.C.A. [12" Version]
America [12" Version Vocal Mix]
Go West [Full Remix '97]
In The Navy [12" Version]
Macho Man (12" Version]
Megamix [Extended Version]
5 O'Clock In The Morning [Club Edit Remix]
Sex Over The Phone [12" Dub Remix]
Get Away Holiday [Disco Mix]
San Francisco (You've Got Me) [From San Francisco To Disco Vocal Remix]
Everybody Loves The Funk
Y.M.C.A. [Millennium Mix]
About this release
Crimson Gold presents Village People 'Gold', the only compilation you'll ever need. • The Village People were a phenomenon and one of the most successful pop groups of the late-1970s, selling Tens of millions of records worldwide, charting one of the all-time Top 40 best-selling singles.
They were known for their catchy tunes, on-stage costumes and suggestive lyrics but they transcended all barriers. They simply released great pop records!
This 3CD 'Gold' collection is a definitive career spanning set from 1977, containing 44 tracks, including the global multi-million selling monster hit 'Y.M.C.A.'
'CD1 includes their massive hits 'Y.M.C.A.', 'In The Navy', 'Go West', 'Can't Stop The Music', along with popular album tracks.
CD2 includes further international hits 'Macho Man', 'San Francisco (You Got Me)', 'Ready For The 80s' and 'Sex Over The Phone'.
CD3 features Extended versions, a Megamix and later Remixes.