Unchained: Home Recordings & Studio Outtakes 1972-1977 (Limited Edition)
T.Rex
Unchained: Home Recordings & Studio Outtakes 1972-1977 (Limited Edition)
T.Rex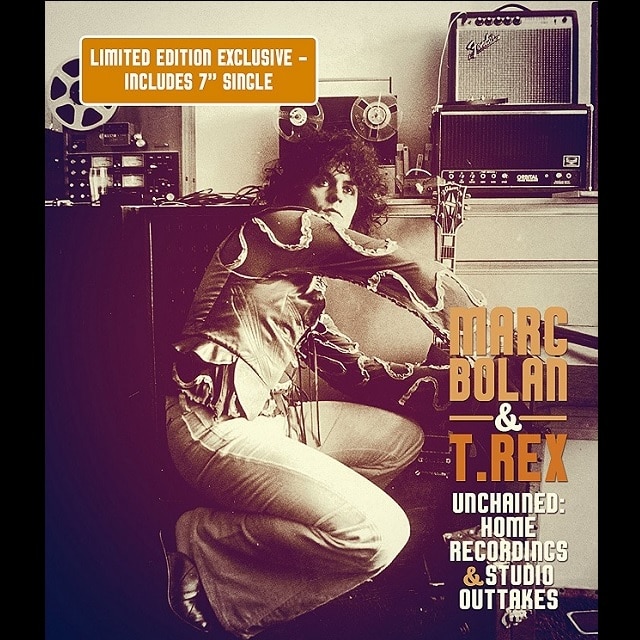 Release information
Release information
Label: Edsel
• Format: CD
• Date: 30/10/2015
Cat#: UNCHBOX01X
• Barcode: 5014797893610
• Genre: Rock
Sub Genre: Glam Rock
Track Listing
Over The Flats
Sugar Baby
Children Of The World
Did You Ever
Alligator Man
Shame On You
Guitar Blues
Shadow Babe
Cry Baby [acoustic]
Cry Baby [electric]
Rollin' Stone
What Do I See
Shame On You (Little Girl)
Always
Auto Machine
Unicorn Horn (A Thousand Mark Feld Charms)
Jam
Sailors Of The Highway
Would I Be The One?
Meadows Of The Sea
Mr. Motion [version 1]
Mr. Motion [version 2]
City Port [fast punk]
Just Like Me [version 1]
Just Like Me [version 2]
Is It True?
Zinc Rider
Canyon
Fast Blues – Easy Action
Bolan's Blues
Shake It Wind One
Work With Me Baby
Spaceball Boot
Electric Lips
Slider Blues
Ellie May
My Baby's New Porsche
Dark-Lipped Woman
Organ Thing [instrumental)
Dance In The Midnight [version 1]
Delanie (Everyday) [version 2]
I Wanna Go
Saturday Night [version 1]
Down Home Lady [version 2]
Hope You Enjoy The Show [version 1]
All My Love [version 1]
This Is My Life
Mr Motion
Big Black Cat
Saturation Syncopation (All Alone) [version 2]
Down Home Lady [version 1]
Metropolis Incarnate [version 1]
Misfortune Gatehouse
You Move Like A Dog
Saturday Night [version 2]
Sky Church Music
Dance In The Midnight [version 2]
All My Love [version 2]
Hope You Enjoy The Show [version 2]
Down Home Lady [version 3]
Sure Enough
Saturation Syncopation (All Alone) [version 3]
I'm Coming To Rock'n'Roll
High Wire
Yesterday (Everyday) [version 1]
Sad Girl
Metropolis Incarnate [version 2]
Jam
Down Home Lady [version 4]
Look Around
Jet Tambourine
Dance In The Midnight [version 3]
Plateau Skull
Saturation Syncopation (All Alone) [version 1]
Saturday Night [version 3]
Bolan's Zip Gun
Lock Into Your Love
I Never Told Me
Every Lady
Do I Love Thee
(By The Light Of A) Magical Moon
Sparrow
Sanctified
Two Tone Lady (She'll Be Good To Me)
Video Drama
Love For Me
Jet Tambourine
11.15 (Jam)
(By The Light Of A) Magical Moon
Video Drama [extracts]
Do I Love Thee
Pale Horse Ridin'
Funky London Childhood
Depth Charge
Brain Police
I Could Have Loved You
Bust My Ball
King Of The Mountain Cometh
Statement Of Utopia
Swahili Boogie Woogie
Hey Little Girl
Petticoat Lane
I Believe
Change Change
Oh Boy
Savage Beethoven
Voice Poem
Dynamo
Baby Please, Baby Squeeze
Ain't That A Shame
Teenage Boy Child
Electric Stew [acoustic]
Reelin' & A Wheelin' & A Boppin' & A Bolan
You Ought To Know
It's My City
Christmas Bop
Funky London Childhood
I Could Have Loved You
King Of The Mountain Cometh
Swahili Boogie Woogie
I Believe
Petticoat Lane
Petticoat Lane [take 2]
Dynamo [takes 1, 2, 3]
Baby Please, Baby Squeeze
Riff
Freeway
I'm A Voodoo Man
Decadent Priestess
Midnight Creeps Across Your Window
Demon Grave
Memphis Highway
Bombs Out Of London
Funky London Childhood
London Boys
Savage Deception Of Love
Angel When I'm Mad
Over You Babe
Mellow Love [solo]
Love Drunk [solo]
20th Century Baby [solo]
Shy Boy
Love Drunk
Foxy Boy
20th Century Baby
Hot George
Write Me A Song
Mellow Love
Endless Sleep
Sing Me A Song
Riff
Everybody Needs Somebody
Teenage Angel
Every Single Day (When I Was A Child)
Bad Love Woman
Sad Man
Skateboard
You Got The Taste
Fine Little Baby
Auto Destruct
Young Boy Of Love
Wherever You Go
It's Alright
Love Charm
Stay Hungry
Sometimes You Rock Me
Be Not Afraid Of Love
Young Girl Of Love
Gimme Some Lovin'
Little Brother
All The Rage
Shadow Shaker
Boogie With Your Baby
When Will I Be Loved
21st. Century Stance
Purple Prince Of Pleasure
Like A Warrior
Think Zinc Lady
Messing With The Mystic
When Was A Child
Ghetto Baby Blue
Sailors Of The Highway
Get Down
Classic Rap
About this release
Between 1994 and 1996, Edsel released eight full-length CDs of Marc Bolan's previously unreleased home
demos, alternate takes, unused and abandoned songs, and unfinished recordings. These CDs were deleted
in 2001. In late 2010, all eight discs were reissued in one deluxe casebound book package – but the majority of the print run was consumed in the Sony DADC warehouse fire of 2011.
Since then, copies of the rare original individual releases and the 2010 book set have changed hands for foolish
amounts of money, and sellers on Ebay offer to pirate the entire set!
Edsel is now proud to announce the re-issue of the 8 CDs in a limited edition 12" x 12" bound book set, with
completely new artwork, including rarely seen photos. Mark Paytress, Mojo writer and author of the acknowledged definitive Bolan biography "Bolan: The Rise and Fall of a 20th Century Superstar", has revised his original annotation for this new 2015 package.