Unbreakable_The Fragile Remixes (Pale Green Vinyl)
Dead Or Alive
Unbreakable_The Fragile Remixes (Pale Green Vinyl)
Dead Or Alive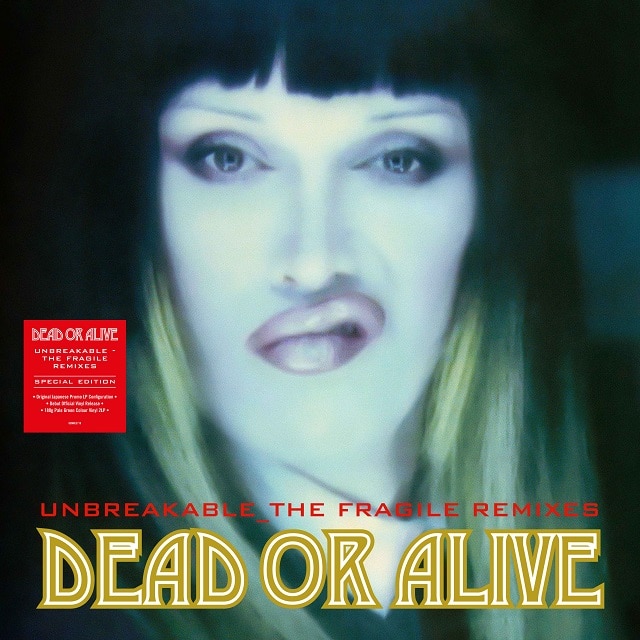 Release information
Release information
Label: Demon Records
• Format: Vinyl
• Date: 28/08/2020
Cat#: DEMREC719
• Barcode: 5014797902961
• Genre: Dance, Disco, Pop
Track Listing
Turn Around And Count 2 Ten [Y&Co."B" Mix]
My Heart Goes Bang [Love Machine Remix]
Hit And Run Lover [Ventura Mix]
You Spin Me Round (Like A Record) [Zi Zone Mix]
Something In My House [Deadend Of Eurasia Mix]
Lover Come Back To Me [Earthquake Mix]
Isn't It A Pity [Bustard Remix]
Just What I Always Wanted [R.M. Hyper Techno Mix]
Blue Christmas [P.K.G. Remix]
I Paralyze [B4 Za Beat Remix]
About this release
This special edition is released in its original Japanese Promo 2LP configuration and will be pressed on 180g heavyweight pale green colour vinyl. "Unbreakable_The Fragile Remixes" was a 2001 Japan-only release, which followed on from the success of "Fragile".
The label requested permission from the Band to commission a ten-track remix album. The album formed part of the 'Sophisticated Boom Box MMXVI' box set in 2016 and received its debut UK and first vinyl LP release as part of Record Store Day 2017.
Dead Or Alive have sold more than 30 million albums and 25 million singles worldwide and gave Stock Aitken Waterman their first #1 single.
Their first three albums, which the band wrote, all reached the UK Top 30, with 'Youthquake' reaching the Top 10.
In the 1980s, they charted seven unique singles in the UK Top 40, with two further re-entries this century, with a remix and original version of 'You Spin Me Round (Like A Record)'.
Respected US magazine Billboard, ranked them in their all-time Top 100 most successful 'dance artists' chart.