Twelve Inch Seventies: Boogie Wonderland
Various Artists
Twelve Inch Seventies: Boogie Wonderland
Various Artists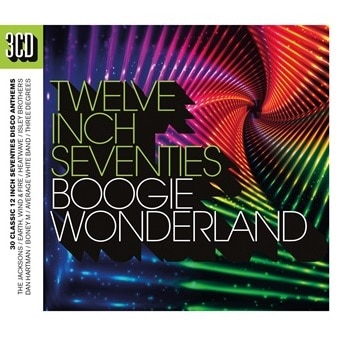 Release information
Release information
Label: Crimson Productions
• Format: CD, Digital
• Date: 31/03/2017
Cat#: TWIN70001
• Barcode: 654378622427
• Genre: Disco, Pop
Track Listing
Boogie Wonderland (12" Version) - Earth Wind & Fire
Vertigo / Relight My Fire (12" Version) - Dan Hartman Feat. Loleatta Holloway
Blame It On The Boogie (12" Single Version) - The Jacksons
The Love I Lost (Album Version) - Harold Melvin & The Blue Notes
Was That All It Was (12" Version) - Jean Carn
I've Got The Next Dance (12" Disco Mix) - Deniece Williams
Star Love (Disco Version) - Cheryl Lynn
How's Your Love Life Baby? (Special 12" Version) - Jackie Moore
Bourgie' Bourgie' (12" Version) - Gladys Knight & The Pips
Shame (12" Version) - Evelyn "Champagne" King
No One Home (12" Version) - Lalo Schifrin
Gotta Go Home (Extended Version) - Boney M.
One Way Ticket (Us Remix) - Eruption
Jump The Gun (12" Version) - The Three Degrees
Getting Serious (UK 12" Remix) - Frantique
Lovin' Is Really My Game (12" Version) - Brainstorm
Disco Nights (Rock Freak) (12" Disco Version) - G.Q.
I Thought It Was You (12" Version) - Herbie Hancock
Hold Tight (Special 12" Disco Mix) - Vicki Sue Robinson
Cherchez La Femme / Se Si Bon (Album Version) - Dr. Buzzard's Original Savannah Band
Reasons To Be Cheeerful (Part 3) (12" Version) - Ian Dury & The Blockheads
Native New Yorker (12" Disco Mix) - Odyssey
Boogie Nights (12" Single Version) - Heatwave
I Love Music (12" Version) - The O'Jays
That Lady (Pt. 1 & Pt. 2) - The Isley Brothers
TSOP (The Sound Of Philadelphia) (Special 12" Version) - MFSB Feat. The Three Degrees
Countdown / This Is It (12" Version) - Dan Hartman
Love Magic (12" Version) - John Davis & The Monster Orchestra
What's Your Name, What's Your Number (12" Version) - Andrea True Connection
Dance Little Lady Dance (12" Version) - Tina Charles
Let's Love Dance Tonight (12" Version) - Gary's Gang
About this release
Following in the footsteps of the hugely successful Twelve Inch Eighties range, comes the Twelve Inch Seventies range. Compiling extended alternate mixes of some of the biggest hit singles of the 70s. Each release is housed in a sleek 3CD digipak with abstract imagery representative of early dance label releases. These carefully selected titles bring together some of the finest seventies anthems, in all their full 12" single glory.
Boogie Wonderland is a collection of classic disco songs extended, remixed and re-imagined.
Features over 30 classics by the likes of The Jacksons, Boney M, Three Degrees, Earth Wind & Fire, and many more. Contains a whopping 8x Top 5 singles, 5x Top 10 and 8x Top 20 hit singles. Many hit records exclusively licensed from Sony Music Entertainment UK Limited.
Extra information about this release