Twelve Inch Nineties: Moving On Up
Various Artists
Twelve Inch Nineties: Moving On Up
Various Artists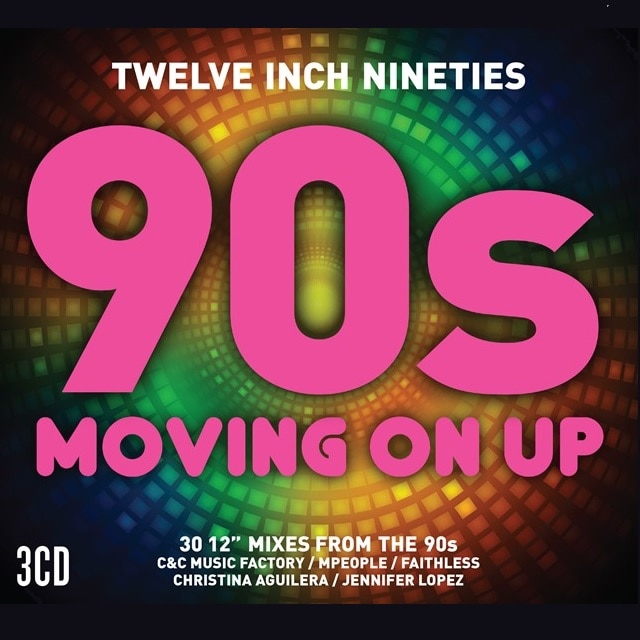 Release information
Release information
Label: Crimson Productions
• Format: CD, Digital
• Date: 20/10/2017
Cat#: TWIN90005
• Barcode: 654378623028
• Genre: Pop
Sub Genre: Classic Pop
Track Listing
Moving On Up (M People Master Mix) - M People
Gonna Make You Sweat (Slammin Vocal Club Mix) - C&C Music Factory
I'm Your Baby Tonight (Extended Version) - Whitney Houston
Boom Shake The Room (Mr Lee's Extended Club Mix) - Dj Jazzy Jeff & Fresh Prince
Touch Me (Sexual Version) - 49ers
Salva Mea (Epic Mix) - Faithless
Disco's Revenge (Mole Hole Mix) - Gusto
Rock Your Baby (Thumb A Ride Mix) - KWS
Run Away (Sound Factory Vox Up Mix) - Real McCoy
Life (12" Mix) - Haddaway
Genie In A Bottle (Eddie Arroyo Club Mix Long) - Christina Aguilera
If You Had My Love (Pablo Flores Remix) - Jennifer Lopez
Maria (Spanglish Extended) - Ricky Martin
Turn The Beat Around (Def Classic Mix) - Gloria Estefan
Never Never Gonna Give You Up (Frankie's Hard R&B Club Mix) - Lisa Stansfield
(We Want) The Same Thing (Extended Summer Remix) - Belinda Carlisle
Hey Now (Girls Just Want To Have Fun) (Pop Goes The Dancehall Mix) - Cyndi Lauper
Woman In Love (Sleaze Sisters Extended) - Dana International
Avenging Angels (John 007 Fleming Theramin Mix) - Space
Kevin Carter (Stealthsonic Orchestra Remix) - Manic Street Preachers
Last Thing On My Mind (Wip't Up In The Disco Mix) - Steps
Be Young, Be Foolish, Be Happy (Extended Club Mix) - Sonia
C'est La Vie (K Klass Epic Club Mix) - B*witched
Brown Girl In The Ring (Funny Girl Club Mix) - Boney M
Copacabana (12" 1993 Remix) - Barry Manilow
Be The First To Believe (Phats & Small Mutant Disco Mix) - A1
Want It That Way (Morales Club Version) - Backstreet Boys
I Want You Back (Club Version) - *N-sync
Step By Step (12" Club Version) - New Kids On The Block
Love Guaranteed (Silk House Guarantee 12") - Damage
About this release
Following in the footsteps of the hugely successful Twelve Inch Eighties and Twelve Inch Seventies ranges, comes the next collection Twelve Inch Nineties.
Compiling rare extended and alternate mixes of some of the biggest hit singles of the 90s. With an eclectic array of artists featured across all titles, this is the most diverse Twelve Inch range to date. These carefully selected titles bring together some of the finest nineties anthems, remixed and re-imagined.
Moving On Up is a collection of classic Pop songs extended, remixed and reimagined. Featuring 30 Pop classics by the likes of M People, Faithless, New Kids On The Block, Christina Aguilera, and many more.
Packed with many UK Top 40 Hits and hard to find promo versions with many hit records exclusively licensed from Sony Music Entertainment UK Limited & The Licensing Partnership.