Twelve Inch Nineties: Insomnia
Various Artists
Twelve Inch Nineties: Insomnia
Various Artists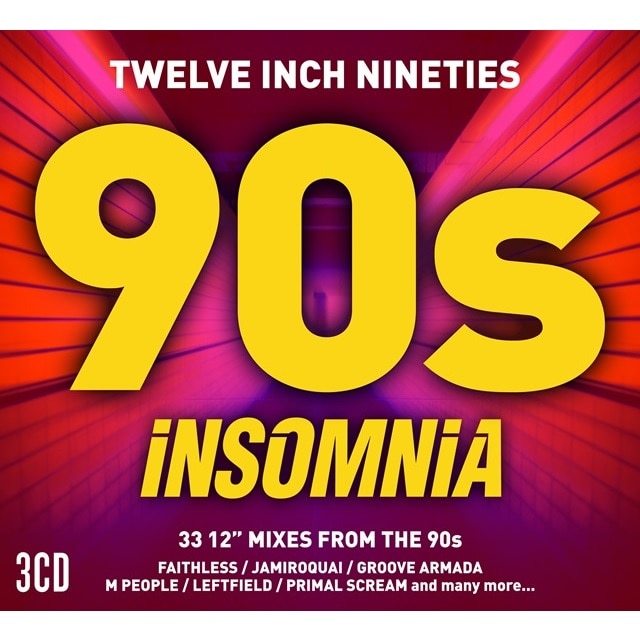 Release information
Release information
Label: Crimson Productions
• Format: CD
• Date: 18/08/2017
Cat#: TWIN90001
• Barcode: 654378622625
• Genre: Dance, Pop
Sub Genre: Britpop, Classic Pop
Track Listing
Insomnia (Monster Mix) - Faithless
Too Young To Die (Extended Version) - Jamiroquai
Release The Pressure (The Vocal Mix) - Leftfield Feat. Earl Sixteen
Come Together (Terry Farley Extended 12"" Mix) - Primal Scream
One Love (Full Length Version) - The Stone Roses
Australia (Lionrock Remix) - Manic Street Preachers
Ready To Go (Ben Gross Us Mix) - Republica
Your Town (Perfecto Mix) - Deacon Blue
Female Of The Species (D'still'd Remix) - Space
At The River (English Riviera Mix) - Groove Armada
Underwater Love (Morales Underwater Club Mx) - Smoke City
No Scrubs (Main Mix W/Rap) - TLC
Unbreak My Heart (Soul Hex Anthem Vocal) - Toni Braxton
I'm Not Giving You Up (Tony Moran's 12"" Remix) - Gloria Estefan
Ain't Nobody (David's Extended Club Mega-mix) - Diana King
5 Miles To Empty (Dark Child Remix) - Brownstone
Bump N Grind (How I Feel It - Extended Mix) - R Kelly
When Love Cries (Vocal Club / Summertime Remix) - Donna Summer
Feel So High (The Elevation Mix) - Des'ree
Winter In July (Cosmic Jammer Club Mix) - Bomb The Bass
Broken English (Slam Vocal Mix) - Sunscreem
I Quit (Dave Sears On Time Mix) - Hepburn
One Night In Heaven (Master Mix) - M People
Everlasting Love (Classic Paradise Mix) - Gloria Estefan
I Plead Insanity (Extended 12"") - Belinda Carlisle
Here We Go (Cliviles/Cole Rockin In 91 Mix) - C&C Music Factory
Klubbhopping (Extended Mix) - Klubbheads
Blurred (Pianoman Original Club Mix) - Pianoman
B - boy Stance (Freestylers Revenge 12"") - Freestylers
Run To You (12"" Version) - Rage
Save It 'Till The Mourning After (Club Mix) - Shut Up & Dance
A Trip To Trumpton (12"" Club Version) - Urban Hype
Activ 8 (Come With Me) (Hardcore Holocaust Mix) - Altern-8
About this release
Following in the footsteps of the hugely successful Twelve Inch Eighties and Twelve Inch Seventies ranges, comes the next collection Twelve Inch Nineties. Compiling rare extended and alternate mixes of some of the biggest hit singles of the 90s. With an eclectic array of artists featured across all titles, this is the most diverse Twelve Inch range to date.
Each release is housed in a sleek 3CD digipak with classic 90simagery giving a throwback feel to all the packages. These carefully selected titles bring together some of the finest nineties anthems, remixed and re-imagined. Insomnia is a collection of classic Pop, Brit-pop and Urban songs extended, remixed and reimagined.
Features over 30 classics by the likes of Faithless, Primal Scream, R Kelly, Groove Armada, M People, and many more. Packed with many UK Top 40 Hits and hard to find promo versions.
Extra information about this release