Twelve Inch Nineties: Feels Like Heaven
Various Artists
Twelve Inch Nineties: Feels Like Heaven
Various Artists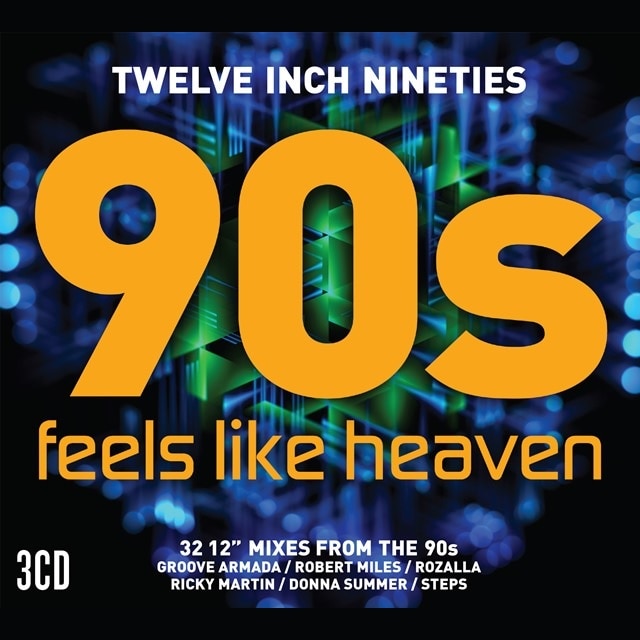 Release information
Release information
Label: Crimson Productions
• Format: CD, Digital
• Date: 20/10/2017
Cat#: TWIN90004
• Barcode: 654378622922
• Genre: Pop
Sub Genre: Classic Pop
Track Listing
See You Baby (Fatboy Slim Remix) - Groove Armada Feat. Gram'ma Funk
Children (Dream Version) - Robert Miles
Feels Like Heaven (Extended To The Max Mix) - Urban Cookie Collective
Are You Ready To Fly (Rainbow Mix) - Rozalla
Ride Like The Wind (Extended Mix) - East Side Beat
Please Don't Go (Sunshine Mix) - K.W.S.
Zombie (Adams & Gielen Club Mix) - A.D.A.M. Feat Amy
Freestyler (Missing Link Mix) - Bomfunk MC's
Quit Playing Games (With My Heart) (E-smoove Generator Mix) - Backstreet Boys
Call It What You Want (The C&C Pump-it Mix) - New Kids On The Block
Got The Feelin' (Extended) - Five
It's My Life (Extended Club Version) - Dr. Alban
What Is Love (12" Mix) - Haddaway
Another Night (Club Mix) - Real McCoy
Macarena (Bass Bumpers Remix-club Mix) - Los Del Rio
Mambo No. 5 (A Little Bit Of...)(Extended Mix) - Lou Bega
Mega Mix (12" Extended Version) - Boney M.
Love's Got A Hold On My Heart (W.I.P. Off The Wall Mix) - Steps
You To Me Are Everything (Extended Club Mix) - Sonia
Let's Get Ready To Rhumble (Housey Housey Mix) - PJ & Duncan
I Want The World (Planet Uranus Mix) - 2wo Third3
Heaven Must Be Missing An Angel (Extended Club Mix) - Worlds Apart
Diva (Sleaze Sisters Paradise) (Revisited 12") - Dana International
Heaven's What I Feel (Victor Calderone Mix) - Gloria Estefan
I Will Go With You (Con Te Partiró) (Hex Hector Extended Vocal Mix) - Donna Summer
Can't Get Enough Of Your Love (C&C Extended Club Mix I) - Taylor Dayne
Shake Your Bon-bon (12" Almighty Mix) - Ricky Martin
Where Do You Go (Ocean Drive Mix) - No Mercy
Martika's Kitchen (Alternate Dub Version) - Martika
Live Your Life Be Free (Club Mix) - Belinda Carlisle
That's What I Think (Vasquez Club Mix) - Cyndi Lauper
All 'Bout The Money (Pierre J's Extended Version) - Meja
About this release
Following in the footsteps of the hugely successful Twelve Inch Eighties and Twelve Inch Seventies ranges, comes the next collection Twelve Inch Nineties. Compiling rare extended and alternate mixes of some of the biggest hit singles of the 90s. With an eclectic array of artists featured across all titles, this is the most diverse Twelve Inch range to date.
Features 30 Pop classics by the likes of Groove Armada, Backstreet Boys, Five, Boney M., Steps, Gloria Estefan and packed with many UK Top 40 Hits and hard to find promo versions.
These carefully selected titles bring together some of the finest nineties anthems, remixed and re-imagined. Feels Like Heaven is a collection of classic Pop songs extended, remixed and reimagined.
Many hit records exclusively licensed from Sony Music Entertainment UK Limited & The Licensing Partnership