Twelve Inch Nineties: Feel Good
Various Artists
Twelve Inch Nineties: Feel Good
Various Artists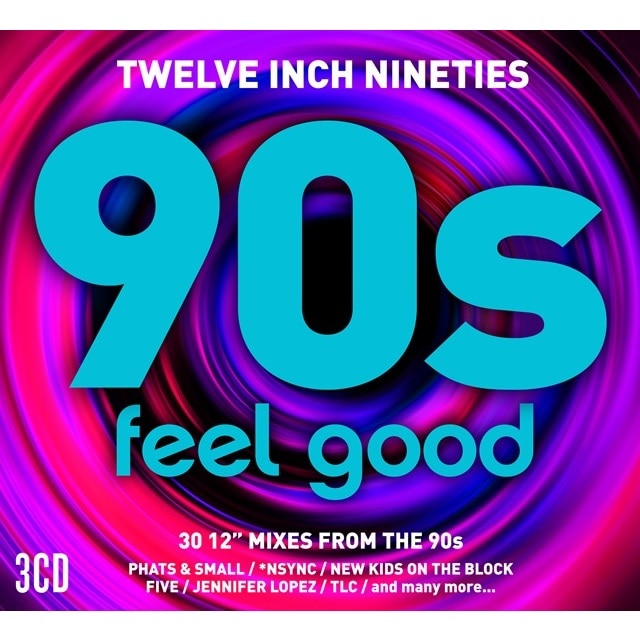 Release information
Release information
Label: Crimson Productions
• Format: CD
• Date: 18/08/2017
Cat#: TWIN90003
• Barcode: 654378622823
• Genre: Dance, Pop
Sub Genre: Classic Pop
Track Listing
Waiting For Tonight (Metro Mix) - Jennifer Lopez
You'll Be Mine (Party Time) (Rosabel's Fiesta Mix) - Gloria Estefan
Please Don't Go (Ocean Drive Mix) - No Mercy
Unpretty (MJ Cole Remix - Vox Up) - TLC
Chains (S&m Mix) - Tina Arena
Right Beside You (Classic Club Mix) - Sophie B. Hawkins
Someday (I'm Coming Back) (Absolute Remix) - Lisa Stansfield
Summer Rain (Justin Strauss 12" Remix) - Belinda Carlisle
Love Thy Will Be Done (Prince Mix) - Martika
Can I Touch You There (Classic Club Version) - Michael Bolton
Reverence (Monster Mix) - Faithless
Fools Gold (Tall Paul Remix) - Stone Roses
Jailbird (Dust Brothers Mix) - Primal Scream
Tsunami (Electron Ray Tube Mix) - Manic Street Preachers
Neighborhood (Live It! Club Mix) - Space
Twist And Shout (Extended Mix) - Deacon Blue
Itchycoo Park (Morales Mix) - M People
Feel Good (Mutant Disco 12") - Phats & Small
I Miss You (12" Mix) - Haddaway
Could It Be I'm Falling In Love (Club Mx) - Worlds Apart
One For Sorrow (Tony Moran Extended Club Mix) - Steps
Tearin' Up My Heart (Extended Version) - *N-sync
Slam Dunk (Da Funk) (Candy Girls Vocal Club Mix) - Five
Games (The Kids Get Hard Extended Version) - New Kids On The Block
Summertime Of Our Lives (Metro Club Mix) - A1
Could've Told You So (Extended Mix) - Halo James
Let Me In (Tk Let Me Out Mix) - O.T.T.
I'm A Man Not A Boy (Southport Rally Tony De Vit Snt Mix) - North And South
Rollercoaster (Amen Uk Full Vocal Mix) - B*witched
Only Fools (Ever Fall In Love) (Extended Club Mix) - Sonia
About this release
Following in the footsteps of the hugely successful Twelve Inch Eighties and Twelve Inch Seventies ranges, comes the next collection Twelve Inch Nineties. Compiling rare extended and alternate mixes of some of the biggest hit singles of the 90s. With an eclectic array of artists featured across all titles, this is the most diverse Twelve Inch range to date.
Feel Good is a collection of classic Pop songs extended, remixed and reimagined and features 30 Pop classics by the likes of Jennifer Lopez, TLC, Tina Arena, Gloria Estefan, *N-Sync, and many more.
Packed with many UK Top 40 Hits and hard to find promo versions.
Extra information about this release