Twelve Inch Eighties: Rhythm Is Gonna Get You
Various Artists
Twelve Inch Eighties: Rhythm Is Gonna Get You
Various Artists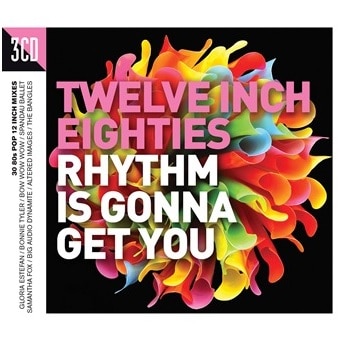 Release information
Release information
Label: Crimson Productions
• Format: CD, Digital
• Date: 24/06/2016
Cat#: TWIN80003
• Barcode: 654378621529
• Genre: Dance, Pop
Track Listing
State Of Shock (Dance Mix) - The Jacksons
Rhythm Is Gonna Get You (Special 12" Dance Mix)- Gloria Estefan and Miami Sound Machine
Love's About To Change My Heart (Clivillés & Cole 12" Mix) - Donna Summer
Freeway of Love (Rock Mix) - Aretha Frankli
Stop To Love (12" Mix) - Luther Vandross
Hitmix (The Official Bootleg Megamix) - Alexander O'Neal
Just The Way You Like It (Long Mix) - S.O.S. Band
Touch Me (I Want Your Body) - Samantha Fox
Cuddly Toy (Extended Mix) - Roachford
Dignity (Extended Version) - Deacon Blue
Total Eclipse of the Heart - Bonnie Tyler
We Built This City (Special Club Mix) - Starship
Out of Touch (Club Version) - Daryl Hall & John Oates
Kyrie - Mr. Mister
Eye of the Tiger (Special Extended European Version) - Survivor
Playing with the Boys (12" Version) - Kenny Loggins
Human Touch (Extended Mix) - Rick Springfield
Hazy Shade Of Winter (Purple Haze Mix) (Clean Version) - The Bangles
She Bop (Special Dance Mix) - Cyndi Lauper
Circle In The Sand (Beach Party Mix) - Belinda Carlisle
Go Wild in the Country (12" Version) - Bow Wow Wow
See Those Eyes (Dance Mix) - Altered Images
Life in Tokyo (12" Extended Version) - Japan
Wishing (If I Had A Photograph Of You) (Extended Version) - A Flock Of Seagulls
We Are Detective - Thompson Twins
Alone Without You (Scorcher Mix) - King
Fight For Ourselves (Extended Remix) - Spandau Ballet
Medicine Show (12 inch Remix) - Big Audio Dynamite
Hey Manhattan! (JFK Version) - Prefab Sprout
Dreamtime (Extended Remix Version) - Daryl Hall
About this release
Twelve Inch Eighties is the new 3CD range by Crimson Productions, compiling extended alternate mixes of some of the biggest hit singles of the 80s. Each themed release is housed in a sleek 3CD digipak with abstract imagery representative of early dance label releases. These carefully selected titles across the range will bring together the finest eighties pop, dance and disco, amongst other genres, in all their full 12" single glory.
Rhythm Is Gonna Get You is the latest title in the range and collects even more classic Pop anthems from the 80s in all their alternatively mixed beauty.
Features 30 Pop smash singles from Gloria Estefan, Spandau Ballet, Altered Images, The Bangles and more…
Contains 2x UK number 1s, 3x Top 5 and 12x Top 20 UK Chart Singles.
Many hit records exclusively licensed from Sony Music Entertainment UK Limited.