Twelve Inch Eighties: When The Going Gets Tough
Various Artists
Twelve Inch Eighties: When The Going Gets Tough
Various Artists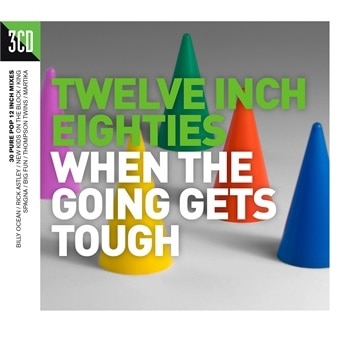 Release information
Release information
Label: Crimson Productions
• Format: CD, Digital
• Date: 13/01/2017
Cat#: TWIN80007
• Barcode: 654378621727
• Genre: Dance, Disco, Pop
Track Listing
Leave A Light On (Extended Version) - Belinda Carlisle
Walk Like An Egyptian (Extended Dance Mix) - The Bangles
Maneater (Extended Club Mix) - Daryl Hall & John Oates
More Than You Know (Dance Mix, Pt. 1) - Martika
Cross My Heart (Dance Mix) - Eighth Wonder
I'm Gonna Tear Your Playhouse Down (Extended Mix) - Paul Young
If You Let Me Stay (Extended Version) - Terence Trent D'arby
You Got It (The Right Stuff) (12" Version) - New Kids On The Block
I Owe You Nothing (Club Mix) - Bros
Warning Sign (12" Version) - Nick Heyward
Fake (Extended Version) - Alexander O'Neal
When The Going Gets Tough (Extended Version )- Billy Ocean
Eyes (Extended Remix) - Donna Summer
Stay Out Of My Life (12" Version) - Five Star
Bad Boy (Remix) - Miami Sound Machine
Whenever You Need Somebody (Lonely Hearts Mix) - Rick Astley
The Goonies 'R' Good Enough (Dance Remix) - Cyndi Lauper
Just Got Lucky (12" Version) - Jo Boxers
Won't You Hold My Hand Now (Heavy Times Mix) - King
Favourite Shirts (Boy Meets Girl) (12" Version) - Haircut 100
John Wayne Is Big Leggy (Groovy Long Version) - Haysi Fantayzee
Happy Birthday (Dance Mix) - Altered Images
You Take Me Up (Machines Take Over Me)(12" Version) - Thompson Twins
Fantasy Island (Almighty Mix) - Tight Fit
When We Were Young (12" Club Mix) - Bucks Fizz
The Promise You Made (Extended Version) - Cock Robin
Brother Louie (Special Long Version) - Modern Talking
Call Me (Viva Mix) - Spagna
Handful Of Promises (12" Version) - Big Fun
I Only Wanna Be With You (Extended Version) - Samantha Fox
About this release
Twelve Inch Eighties is the successful 3CD range by Crimson Productions, compiling extended alternate mixes of some of the biggest hit singles of the 80s. Each themed release is housed in a sleek 3CD digipak with abstract imagery representative of early dance label releases. These carefully selected titles across the range bring together the finest eighties pop, dance and disco, amongst other genres, in all their full 12" single glory.
When The Going Gets Tough is a collection of extended Pure Pop excellence.
Features 30 classics by the likes of Belinda Carlisle, Altered Images, Cyndi Lauper, Samantha Fox, and many more….
Contains 3x Number 1 singles, 12x Top 5 hits, and 27x Top 40 smash tracks altogether.
Many hit records exclusively licensed from Sony Music Entertainment UK Limited.
Extra information about this release