Twelve Inch Eighties: Can You Feel It
Various Artists
Twelve Inch Eighties: Can You Feel It
Various Artists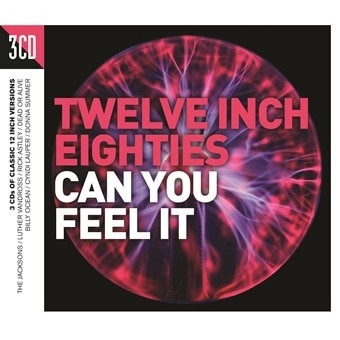 Release information
Release information
Label: Crimson Productions
• Format: CD, Digital
• Date: 16/09/2016
Cat#: TWIN80005
• Barcode: 654378621727
• Genre: Dance, Disco, Pop
Track Listing
Can You Feel It - The Jacksons
Inside Out (12" Version) - Odyssey
Body Talk (Album Version) - Imagination
(What Can I Say) To Make You (Hateful Club Mix) - Alexander O'Neal
She Won't Talk To Me (12" Extended) - Luther Vandross
Get Outta My Dreams, Get into My Car (Extended Version) - Billy Ocean
Indestructible (Extended Version) - The Four Tops featuring Smokey Robinson
Who's Zoomin' Who? (Dance Mix) - Aretha Franklin
Funkin' for Jamaica - Tom Browne
Seasons Change (12" Version) - Exposé
I Don't Wanna Get Hurt (Extended Version) - Donna Summer
Together Forever (Lover's Leap Extended Remix) - Rick Astley
Nothing's Gonna Stop Me Now (Extended Version) - Samantha Fox
Toy Boy (Extended Bicep Mix) - Sinitta
Blame It on the Boogie (PWL Mix) - Big Fun
Love Pains (Steve Hurley's Remix) - Liza Minnelli
My Heart Goes Bang (American 'Wipe Out' Mix) - Dead Or Alive
I'm so Excited (Extended Version) - The Pointer Sisters
Let's Hear It for the Boy (Extended Version) - Deniece Williams
Lost In Emotion (F.F. Remix) - Lisa Lisa & Cult Jam
Get On Your Feet (Pop Vocal) - Gloria Estefan
The Slightest Touch (The Pettibone Touch Remix) - Five Star
Walk Away (12" Club Mix) - Joyce Sims
Prove Your Love (Extended Remix) - Taylor Dayne
Roses (12" Version) - Haywoode
This Is The Right Time (Extended Version) - Lisa Stansfield
Girl You Know It's True (Maxi Version - Super Club Mix) - Milli Vanilli
Deep in Vogue (Banjie Realness) - Malcolm McLaren & The Bootzilla Orchestra
What's Going On (Club Version) - Cyndi Lauper
Wherever I Lay My Hat (That's My Home) (Extended Club Mix Version) - Paul Young
About this release
Twelve Inch Eighties is the successful 3CD range by Crimson Productions, compiling extended alternate mixes of some of the biggest hit singles of the 80s. Each themed release is housed in a sleek 3CD digipak with abstract imagery representative of early dance label releases. These carefully selected titles across the range bring together the finest eighties pop, dance and disco, amongst other genres, in all their full 12" single glory.
Can You Feel It is a collection of some of the biggest 80s dance classics in their full extended 12" form, keeping you on the floor
for longer.
Features 30 heavy hitters by the likes of Rick Astley, Donna Summer, The Jacksons, Billy Ocean and many more…..
Contains 10x Top 5 hits, 9x Top 20 and altogether a whopping 24x Top 40 smash hit singles
Many hit records exclusively licensed from Sony Music Entertainment UK Limited.
Extra information about this release