Twelve Inch Eighties: You Spin Me Round
Various Artists
Twelve Inch Eighties: You Spin Me Round
Various Artists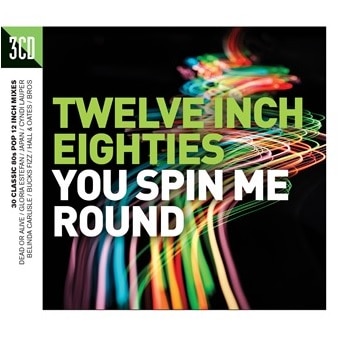 Release information
Release information
Label: Crimson Productions
• Format: CD, Digital
• Date: 25/03/2016
Cat#: TWIN80002
• Barcode: 5014797894754
• Genre: Dance, Pop
Track Listing
You Spin Me Round (12" Murder Mix) - Dead Or Alive
I'm Not Scared (Disco Mix) - Eighth Wonder
Losing My Mind (Extended) - Liza Minnelli
Never Gonna Give You Up (12" Cake Mix) - Rick Astley
I Feel The Earth Move (Club Mix) - Martika
Criticize (12" Remix) - Alexander O'Neal
The Finest (12" Extended) - S.O.S. Band
Dinner With Gershwin (12" Extended Version) - Donna Summer
1, 2, 3, (Extended Version) - Gloria Estefan
Can't Wait Another Minute (12" Mix) - Five Star
Safety Dance (12" Version) - Men Without Hats
Quiet Life (12") - Japan
Love Plus One (12" Version) - Haircut 100
Doctor Doctor (Long Version) - Thompson Twins
99 Red Balloons (12" Club Mix) - Nena
Don't Talk To Me About Love (Extended) - Altered Images
Girls Just Want To Have Fun (Extended Version) - Cyndi Lauper
Break My Stride (Remix/Club Version) - Matthew Wilder
Live It Up (12" Remix) - Mental As Anything
Down Under (Extended) - Men At Work
Heaven Is A Place On Earth (Heavenly Version) - Belinda Carlisle
Manic Monday (Extended Remix) - The Bangles
Holding Out For A Hero (Club Mix) - Bonnie Tyler
I Can't Go For That (No Can Do) (Extended Club Mix) - Daryl Hall & John Oates
Celebrate Youth (Dance Mix) - Rick Springfield
Come Back & Stay (12" Mix) - Paul Young
Take That Situation (Rhythm Mix) - Nick Heyward
My Favourite Waste Of Time (12" Jumbo Remix) - Owen Paul
When Will I Be Famous (12" Infamous Mix) - Bros.
My Camera Never Lies (12") - Bucks Fizz
About this release
Twelve Inch Eighties is the new 3CD range by Crimson Productions, compiling extended alternate mixes of some of the biggest hit singles of the 80s. Each themed release is housed in a sleek 3CD digipak with abstract imagery representative of early dance label releases. These carefully selected titles across the range will bring together the finest eighties pop, dance and disco, amongst other genres, in all their full 12" single glory.
You Spin Me Round is a selection of 80s pop classic anthems in their glorious alternatively mixed editions. Collecting 30 great tracks from one of the finest eras in pop music.
Features 30 Pop smash singles from Belinda Carlisle, Cyndi Lauper, Hall & Oates, Gloria Estefan and more…
Contains a spectacular 6x UK number 1s, 11x Top 5 and 8x Top 10 UK Chart Singles.
Many hit records exclusively licensed from Sony Music Entertainment UK Limited.
Extra information about this release