Turtle Soup
The Turtles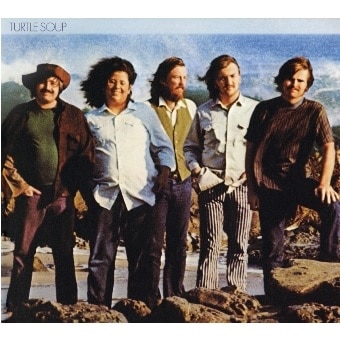 Release information
Release information
Label: Turtle Soup
• Format: CD
• Date: 05/05/2017
Cat#: EDSK7121
• Barcode: 740155712136
• Genre: Pop, Rock
Track Listing
Come Over
House On The Hill
She Always Leaves Me Laughing
How You Love Me
Torn Between Temptations
Love In The City
Bachelor Mother
John & Julie
Hot Little Hands
Somewhere Friday Night
Dance This Dance
You Don't Have To Walk In The Rain
Goodbye Surprise
Like It Or Not
There You Sit Lonely
Can I Go On
You Want To Be A Woman
If We Only Had The Time
Dance This Dance With Me [demo]
Come Over [demo]
How You Love Me [demo]
Strange Girl [demo]
Marmendy Hill [demo]
Turtle Soup radio spot
About this release
The Turtles enjoyed eighteen US hit singles between 1965 and 1970, three of which ("Happy Together", "She'd Rather Be With Me" and "Elenore") were also huge hits in the UK. From their original incarnation as surf band The Crossfires, all the way to their final single, the Turtles traversed several different musical paths during their career. It is precisely this power through diversity that makes the Turtles' body of work one of the most rewarding and enjoyable of the 1960's – they never met a genre they didn't like. Edsel Records is proud to present the band's six albums, each as a 2 CD digipak set.
October 1969's Turtle Soup was the group's most consistent album, as well as their only to feature all original material from the pens of the band members. Produced by Ray Davies of The Kinks in Hollywood, it remains the only complete rock album that Davies helmed outside of his legendary band. Inspired by The Kinks, The Turtles turned in ditties like "Bachelor Mother", the fanciful "John And Julie", as well as the more muscular "Come Over". 'Turtle Soup''s real standouts include Howard's "You Don't Have To Walk In The Rain" and Al's "Love In The City", both issued as hit singles prior to the album's release.
The bonus CD features six songs from the band's abandoned follow-up album 'Shell Shock', produced by Jerry
Yester, as well as demos and outtakes from 'Turtle Soup'. With a booklet note by Andrew Sandoval, this 2 CD digipak edition (exclusive to the UK) has been newly re-mastered by Bill Inglot.
CD1 – Original Album
CD2 – Bonus Tracks