The Hotrats: Turn Ons – 10th Anniversary Edition
The Hotrats
The Hotrats: Turn Ons – 10th Anniversary Edition
The Hotrats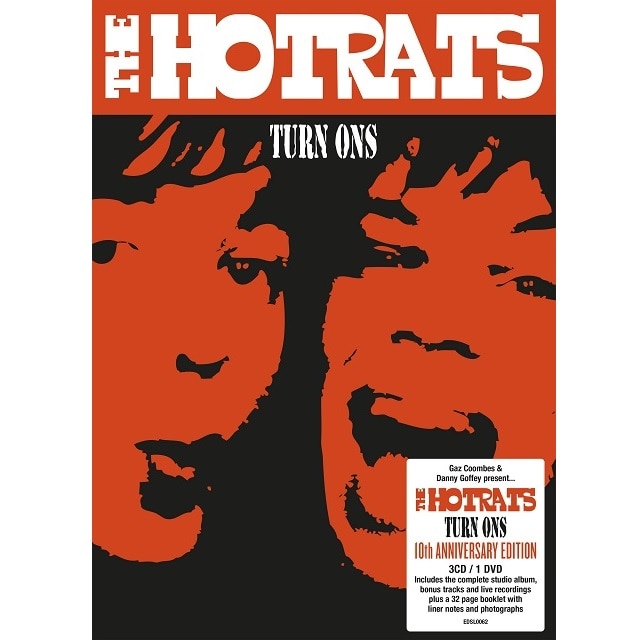 Release information
Release information
Label: Edsel
• Format: CD
• Date: 17/07/2020
Cat#: EDSL0062
• Barcode: 740155726232
• Genre: Alternative, Indie, Rock
Sub Genre: Britpop
Track Listing
I Can't Stand It
Big Sky
The Crystal Ship
(You Gotta) Fight For Your Right (To Party!)
Damaged Goods
Love Is The Drug
Bike
Pump It Up
The Lovecats
Queen Bitch
E.M.I.
Up The Junction
Mirror In The Bathroom
West End Girls
Drive My Car
Drive My Car (Alternate Version)
Milkshake
Introduction
I Can't Stand It
Damaged Goods
(You Gotta) Fight For Your Right (To Party!)
The Crystal Ship
Pump It Up
Love Is The Drug
Big Sky
Queen Bitch
Bike
Mirror In The Bathroom
E.M.I.
The Lovecats
Drive My Car
Caught By The Fuzz
I Can't Stand It
Mirror In The Bathroom
E.M.I.
I Can't Stand It (Instrumental)
Big Sky (Instrumental)
The Crystal Ship (Instrumental)
(You Gotta) Fight For Your Right (To Party!)(Instrumental)
Damaged Goods (Instrumental)
Love Is The Drug (Instrumental)
Bike (Instrumental)
Pump It Up (Instrumental)
The Lovecats (Instrumental)
Queen Bitch (Instrumental)
Up The Junction (Instrumental)
Mirror In The Bathroom (Instrumental)
Milkshake (Instrumental)
Danielle Perry interviews the Hotrats
I Can't Stand It (Live @ Studio 91)
Damaged Goods
Drive My Car
About this release
The Hotrats (AKA Supergrass's Gaz Coombes and Danny Goffey) first released this collection of covers in 2010 and it has gone on to become a fan favourite. Produced by Nigel Godrich (Radiohead, Beck, Paul McCartney), the album showcases the band's classic rock influences with takes on Bowie, the Kinks, Pink Floyd and more.
This newly expanded edition includes the complete album, rare bonus studio recordings and live tracks, including the complete (and previously unreleased) 'Live In Tokyo' show. Highlights include the brand new recording of 'Milkshake', 'Karaoke with The Hotrats' on CD3 and an exclusive alternate version of 'Drive My Car'.
Also included is a DVD featuring all three of the band's music videos alongside a brand new feature in which writer/broadcaster Danielle Perry talks to Gaz Coombes and Danny Goffey about the recording of 'Turn Ons'.
Completing the set is a 32-page booklet featuring previously unpublished photographs, a new essay by Danielle Perry and rare memorabilia.