This World And Body
Marion
This World And Body
Marion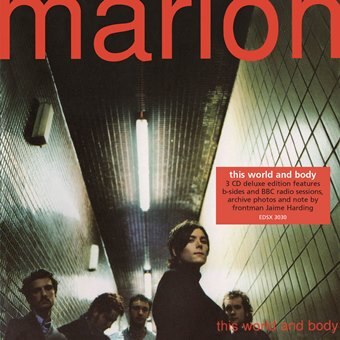 Release information
Release information
Label: Edsel
• Format: CD
• Date: 16/09/2016
Cat#: EDSX3030
• Barcode: 740155303037
• Genre: Alternative, Indie
Sub Genre: Britpop
Track Listing
Fallen Through
Sleep
Let's All Go Together
Wait
The Only Way
I Stopped Dancing
All For Love
Toys For Boys
Time
Vanessa
Your Body Lies
My Children
The Collector
Waiting For No One
Moving Fast
The Late Gate Show
Chance
Father's Day
Down The Middle With You
Changed For The Same
Violent Men
Sleep [Acoustic]
Wait [Acoustic]
Time [Acoustic]
The Only Way [Live]
The Late Gate Show [Live]
The Collector [02/07/96]
Toys For Boys [25/01/95]
I Stopped Dancing [25/01/95]
Fallen Through [02/01/96]
The Only Way [27/02/95]
Time [02/01/96]
All For Love [02/01/96]
Sparkle [02/01/96]
Vanessa [02/07/96]
My Children [27/02/95]
Wait [02/07/96]
Your Body Lies [02/07/96]
About this release
2016 marks the 20th Anniversary of its original release in 1996.
Marion formed in Manchester in 1994, releasing their debut single on Rough Trade. Signed to London Records, the band found themselves bundled in with the 'Britpop' scene, and made their national TV debut by performing 'Sleep' on Channel 4's cult TV show 'The Word' in February 1995.
The band gigged throughout 1995, building up a fanbase, and supported Morrissey on his 'Boxers' tour. 'This World And Body' was released in February 1996 and entered the top ten of the album chart.
This 3 CD deluxe digipak edition features the album, b-sides, and BBC radio sessions (issued on CD for the first time), along with photos from the band's archive and a booklet note by frontman Jaime Harding.