The Yardbirds – Roger The Engineer (RSD20 Expanded Edition: White Vinyl)
The Yardbirds
The Yardbirds – Roger The Engineer (RSD20 Expanded Edition: White Vinyl)
The Yardbirds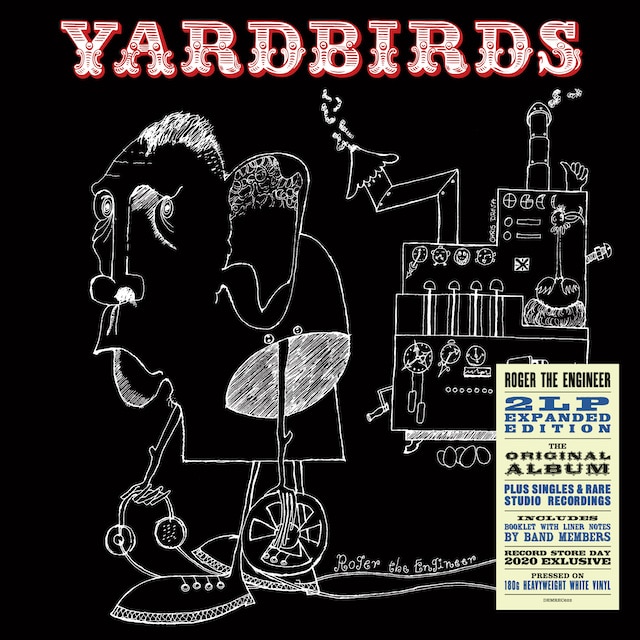 Release information
Release information
Label: Demon Records
• Format: Vinyl
• Date: 26/09/2020
Cat#: DEMREC622
• Barcode: 5014797901865
• Genre: Blues, R&B and Soul, Rock
Track Listing
Lost Women
Over, Under, Sideways, Down
The Nazz Are Blue
I Can't Make Your Way
Rack My Mind
Farewell
Hot House Of Omagarashid
Jeff's Boogie
He's Always There
Turn Into Earth
What Do You Want
Ever Since The World Began
Over, Under Sideways Down (A-Side Single Version)
Jeff's Boogie (B-Side Single Version)
Happenings Ten Years Time Ago (A-Side Single)
Psycho Daisies (B-Side Single)
He's Always There (Alternate Version)
I Can't Make Your Way (Alternate Version)
Turn Into Earth (Alternate Version)
Hot House Of Omagarashid (Alternate Mono Version)
Ever Since The World Began (Vocal Track)
Farewell (Alternate Version)
About this release
Roger The Engineer is the 1966 studio album by the Yardbirds. Featured in both Rolling Stone's list of the '500 greatest albums of all time' and Robert Dimery's book '1001 Albums You Must Hear Before You Die'.
Recorded by the classic era line up of Jeff Beck, Keith Relf, Jim McCarty, Chris Dreja and Paul Samwell-Smith, the band began exploring new sonic territories, pushing their blues-rock sound into the realms of avant-garde, psychedelia and Indian music.
This newly expanded edition includes the classic studio album on LP1 and a collection of 1966 studio recordings on LP2, housed together in an alternate sleeve inspired by an ultra-rare 1966 EP cover.
LP2 features the mono singles from the period, such as the pioneering psychedelic classic 'Happenings Ten Years Time Ago' (featuring future Led Zep members, Jimmy Page and John Paul Jones) along with a number of rare studio recordings making their vinyl debut. Among the highlights are the vocal track from 'Ever Since The World Began' and an earlier version of 'Farewell', both of which are previously unreleased.
Also included is a 4 page booklet with some new liner notes by the Yardbirds themselves (Paul Samwell-Smith, Chris Dreja and Jim McCarty), plus session information and archival photographs.
Exclusively pressed on 180g white vinyl for Record Store Day 2020.