The Vinyl Hoard
Saxon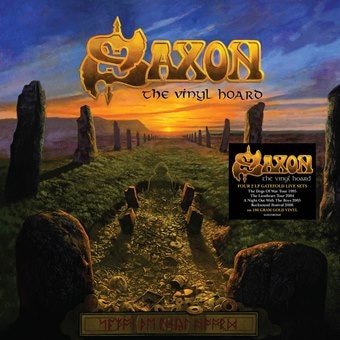 Release information
Release information
Label: Demon Records
• Format: Vinyl
• Date: 28/10/2016
Cat#: SAXONBOX02
• Barcode: 5014797895027
• Genre: Rock
Sub Genre: Hard Rock & Metal
Track Listing
Intro / Warlord
Dogs Of War
Forever Free
Requiem (We Will Remember)
Crusader
Lights In The Sky
Iron Wheels
Ain't Gonna Take It / Nibb's Bavarian Bass
Crash Dive
Refugee
Solid Ball Of Rock
The Great White Buffalo
The Eagle Has Landed / Paul Quinn guitar feature
Princess Of The Night
Can't Stop Rockin'
Denim And Leather / Doug Scarratt guitar feature
Wheels Of Steel / Demolition Alley
The Return
Lionheart
Man And Machine
Beyond The Grave
Searching For Atlantis
To Live By The Sword Pt. 1
Unleash The Beast
To Live By The Sword Pt. 2
Flying On The Edge
Jack Tars
English Man O' War
Court Of The Crimson King
Broken Heroes
Dragon's Lair
Rock Is Our Life
Are We Travellers In Time
Solid Ball Of Rock
This Town Rocks
Backs To The Wall
Redline
Stand Up And Be Counted
Never Surrender
Frozen Rainbow
Suzie Hold On
Play It Loud
Warrior
See The Light Shining
To Hell And Back Again
Stallions Of The Highway
Wheels Of Steel
And The Bands Played On
Crusader
Heavy Metal Thunder
Dogs Of War
Strong Arm Of The Law
Witchfinder General
Backs To The Wall
Solid Ball Of Rock
Motorcycle Man
Dragon's Lair
To Hell And Back Again
Princess Of The Night
Wheels Of Steel [including Doug Scarratt solo]
Crusader
About this release
Demon Records is proud to announce our second Saxon release: an eight album vinyl box set, made up of four 2 LP sets in gatefold sleeves.
The outer slipcase box features a specially-commissioned, beautiful brand new cover painting by Saxon's artist-in-residence, the legendary Paul Gregory.
This is the first release on vinyl for all of these live recordings, previously only released on CD or DVD. We now present them on 180 gram gold vinyl, all in specially designed gatefold sleeves.
THE BOX CONTAINS:
THE DOGS OF WAR TOUR, 1995 (Recorded on tour in Germany)
[Previously issued on CD as "The Eagle Has Landed Part II"]
THE LIONHEART TOUR, 2004 (Recorded on tour in France, England and Germany)
[Previously issued on "The Eagle Has Landed Part III"]
A NIGHT OUT WITH THE BOYS, 2005: THE 25TH ANNIVERSARY OF THE NWOBHM (Recorded on tour in Germany and Sweden)
[Previously issued on "The Eagle Has Landed Part III" ]
ROCK SOUND FESTIVAL, 2006 (Recorded in Switzerland)
[Previously issued on "To Hell And Back Again" ]