The Turtles: More Golden Hits (Gold Vinyl)
The Turtles
The Turtles: More Golden Hits (Gold Vinyl)
The Turtles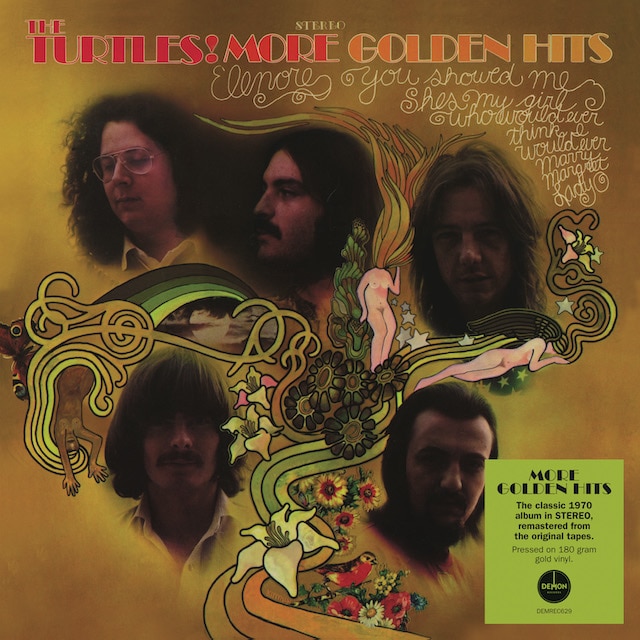 Release information
Release information
Label: Demon Records
• Format: Vinyl
• Date: 31/07/2020
Cat#: DEMREC629
• Barcode: 5014797901940
• Genre: Pop, Rock
Sub Genre: Folk Rock
Track Listing
We Ain't Gonna Party No More
The Story Of Rock And Roll
You Showed Me
Sound Asleep
You Don't Have To Walk In The Rain
Who Would Ever Think That I Would Marry Margaret
She's My Girl
Elenore
Lady-O
Hot Little Hands
Love In The City
Cat In The Window
About this release
From 1970, The Turtles' second hits compilation, featuring the STEREO mixes, remastered from the original tapes by Bill Inglot. Originally only reissued in the US in 2017, Demon Records is proud to release this album in the UK for the first time.
The album features another eight US chart hits from 1967 to 1970, including the number 6 hit "Happy Together" (UK # 7) and the number 6 hit "You Showed Me" (as covered and sampled by the Lightning Seeds, and sampled by U2 and De La Soul). It also features the non-charting "Who Would Ever Think That I Would Marry Margaret" and its B-side "We Ain't Gonna Party No More", both exclusive to this album. Also exclusive to this album is "Cat In The Window", written by Bonner & Gordon (composers of "Happy Together"), a song previously recorded by Petula Clark.
Pressed on 180 gram gold vinyl.