The Three Degrees – Gold
The Three Degrees
The Three Degrees – Gold
The Three Degrees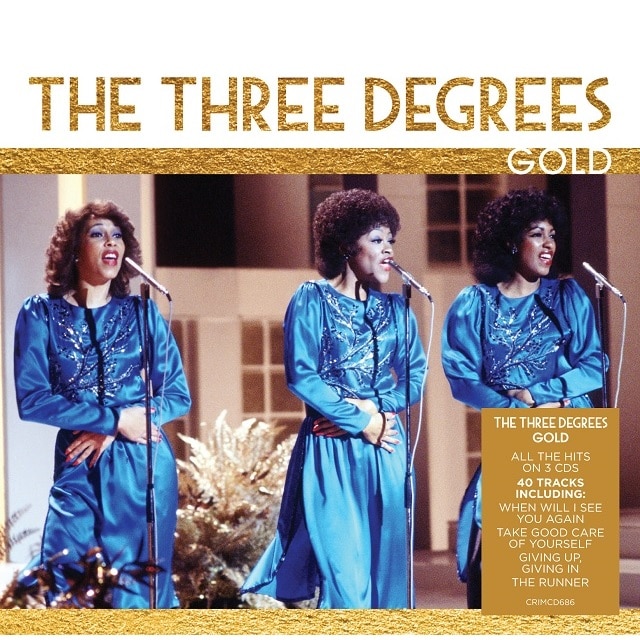 Release information
Release information
Label: Crimson Productions
• Format: CD
• Date: 06/11/2020
Cat#: CRIMCD686
• Barcode: 654378068621
• Genre: Disco, R&B and Soul
Track Listing
When Will I See You Again
Take Good Care Of Yourself
Year Of Decision
Dirty Ol' Man
T.S.O.P. (The Sound Of Philadelphia) [MFSB feat. The Three Degrees]
Love Is The Message [MFSB feat. The Three Degrees]
Get Your Love Back
Long Lost Lover
Toast Of Love
What I Did For Love
We're All Alone
Standing Up For Love
I Like Being A Woman
Do It (Use Your Mind)
La Chanson Populaire
Giving Up, Giving In
The Runner
Woman In Love
My Simple Heart
Jump The Gun
The Golden Lady
Without You
Falling In Love Again
Hot Summer Night
Starlight
Magic In The Air
Looking For Love
Red Light
Bodycheck
Out Of Love Again
The Runner [Extra Long Version]
Giving Up, Giving In [Extended Version]
My Simple Heart [Full Length Version]
Jump The Gun [Long Version]
Starlight [Long Version]
Set Me Free [Long Version]
Free Ride [Live]
Don't Let The Sun Go Down On Me [Live]
Living For The City/For The Love Of Money [Live]
Love Train [Live]
About this release
Signed to Philadelphia International Records (PIR), The Three Degrees made a double debut in the UK singles chart in April 1974 with their own "Year Of Decision", and "TSOP (The Sound Of Philadelphia"), on which they were co-credited with MFSB. Both songs were written by PIR supremos Kenneth Gamble and Leon Huff, who also wrote the trio's next single, the chart-topping "When Will I See You Again". After several more hits on PIR, including "Take Good Care Of Yourself", they signed to the Ariola label.
With the Disco Mastermind Giorgio Moroder in the producer's chair, they had a further run of Top 10 hits in 1978 and 1979 with "Giving Up, Giving In", "Woman In Love", "The Runner" and "My Simple Heart".
This 3CD, 40-track set includes all the trio's 1970s UK hits and more. CD3 contains six extended versions of their Giorgio Moroder hits, as well as four live tracks from their PIR days, covering hits by Dan Hartman, Elton John, Stevie Wonder and The O'Jays.