The Studio LP Collection 1974-1983 (Coloured Vinyl)
Showaddywaddy
The Studio LP Collection 1974-1983 (Coloured Vinyl)
Showaddywaddy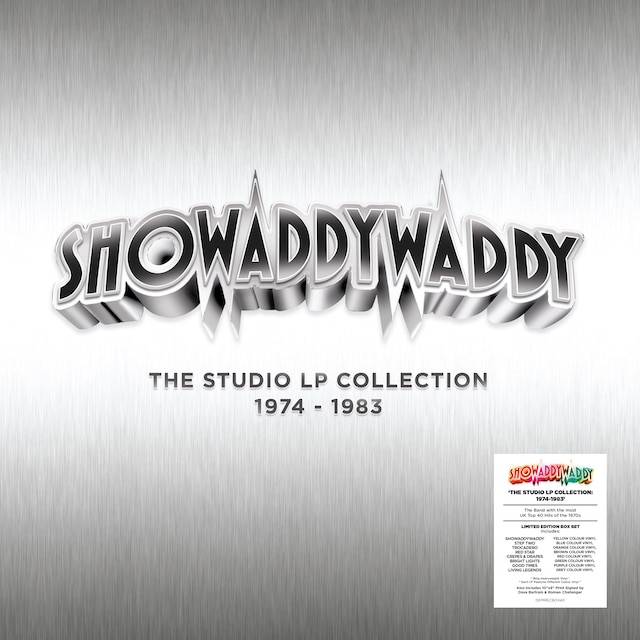 Release information
Release information
Label: Demon Records
• Format: Vinyl
• Date: 18/10/2019
Cat#: DEMRECBOX40
• Barcode: 5014797900240
• Genre: Rock
Sub Genre: Rock N' Roll
Track Listing
Hey Rock And Roll
Bony Moronie
Johnny Remember Me
Temptation
Rock 'N' Roll Lady
King Of The Jive
The Party
Cutie
Rollercoaster
Don't Turn Your Back On Me Baby
Windows
Glory Woman
Three Steps To Heaven
If You Know What I Mean
Sing On Louise
Big Big Star
Chain Gang
Blue Jean Baby
Three Stars / Rave On
The Latest Craze
Smiling Eyes
Rocker Boots
Sweet Music
Everybody On Your Feet
Trocadero
Lookin' Back
Paint Your Picture
Say Mama
Go Johnny Go
Heavenly
Rock And Roll Music
Record Machine
Take Me In Your Arms
Heartbeat
Sweet And Innocent You
The Young Indian Brave
Dancin' Party
'68 Teenage Queen
You Got What It Takes
Lucy Jane (Part 2)
In Above Your Head
Sweet Georgia
Somethin' Else
(You've Got) Personality
Feelin'
Listen To Me
When
Maybe, Maybe, Maybe
Swansong
Sweet Little Rock 'N' Roller
Sea Cruise
Just A Country Boy
Lost
That's Rock And Roll
Twist And Shout
A Night At Daddy Gees
Come On Let's Go
That's Alright With Me
I Appreciate The Job
Win Your Heart
Remember Then
Why Do Lovers Break Each Other's Hearts?
Only Love
Blue Moon
I'll Never Get Over You
Wonderful Dream
Doo Wah Diddy
I Wanna Take You Home
Cool Cool Cat
Then Came You
Teen Canteen
It's Only Make Believe
Always And Ever
Multiplication
Pretty Little One
Ally-Oop
Footsteps
Gypsy Rose-Lee
Good Timing
Party Time
Shake
C'mon Everybody
You Always Stand Me Up
Weekend
I Don't Like Rock 'N' Roll No More
Good Times
Who Put The Bomp (In The Bomp-A-Bomp-A-Bomp)
It's So Easy
I Don't Want To Dream Anymore
Foolin' Around With My Heart
Things
(You're My) Soul And Inspiration
Little Ole Wine Drinker Me
Goody Goody
Don't Bring Me Down
Sorry (I Ran All The Way)
Mona Lisa
Run For Your Life
Hey Little Girl
About this release
LIMITED EDITION COLOUR VINYL 8LP BOX SET, WITH SIGNED 10"X8" PRINT
Celebrating 45 years since Showaddywaddy released their debut Single, 'Hey Rock And Roll'.
Each Vinyl LP Box set in this Limited Edition release, will be pressed on heavyweight 180g, individually coloured vinyl and contain a signed 10″x8″ print.
'The Studio LP Collection 1974-1983' comprises the Band's eight consecutive studio albums, from 1974's 'Showaddywaddy' (UK #9/1974), 'Step Two' (UK #7/1975), 'Trocadero' (UK #41/1976), 'Red Star' (UK #20/1977), 'Crepes & Drapes' (UK #8/1979), 'Bright Lights' (UK #33/1980), 'Good Times' (1981) and 'Living Legends' (1983).
Showaddywaddy are consistently acknowledged as the hardest working band in the country with 33 more shows in 2019, between September and the end of the year.
This vinyl LP box set has been produced in collaboration with the Band's co-founder and current manager, Dave Bartram and Romeo Challenger, the sole-surviving member of the original Band line-up.
Recommended titles