The Stiff Recordings 1977 – 1980 (Coloured Vinyl)
Ian Dury
The Stiff Recordings 1977 – 1980 (Coloured Vinyl)
Ian Dury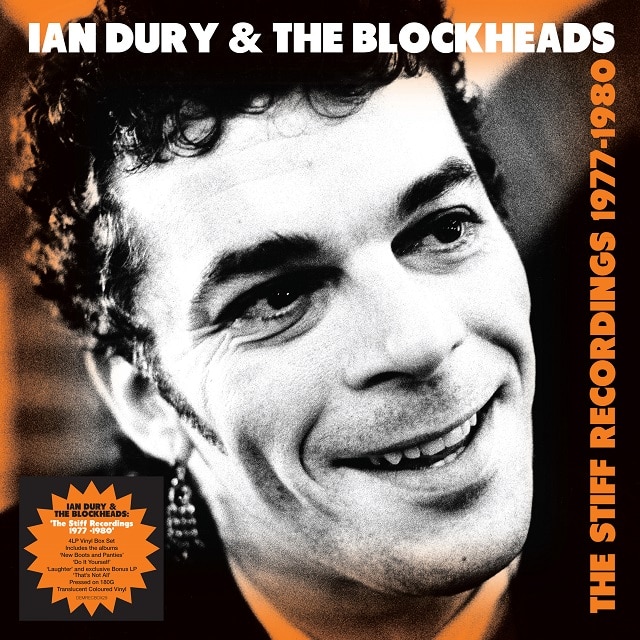 Release information
Release information
Label: Demon Records
• Format: Vinyl
• Date: 11/11/2018
Cat#: DEMRECBOX29
• Barcode: 5014797898110
• Genre: Rock
Sub Genre: New Wave, Punk
Track Listing
Wake Up And Make Love With Me
Sweet Gene Vincent
I'm Partial To Your Abracadabra
My Old Man
Billericay Dickie
Clevor Trever
If I Was With A Woman
Blockheads
Plaistow Patricia
Blackmail Man
Inbetweenies
Quiet
Don't Ask Me
Sink My Boats
Waiting For Your Taxi
This Is What We Find
Uneasy Sunny Day Hotsy Totsy
Mischief
Dance For The Screamers
Lullaby For Francies
Sueperman's Big Sister
Pardon
Delusions Of Grandeur
Yes & No (Paula)
Dance Of The Crackpots
Over The Points
(Take Your Elbow Out Of The Soup You're Sitting On The Chicken)
Uncoolohol
Hey, Hey, Take Me Away
Manic Depression (Jimi)
Oh Mr Peanut
Fucking Ada
Sex & Drugs & Rock & Roll
Razzle In My Pocket
You're More Than Fair
Close To Home
What A Waste
There Ain't Half Been Some Clever Bastards
Reasons To Be Cheerful, Part 3
Hit Me With Your Rhythm Stick
Common As Muck
I Want To Be Straight
That's Not All
You'll See Glimpses
Reasons To Be Cheerful, Part 3 [12" version]
About this release
Ian Dury was one of the UK's most iconic singer-songwriters of the 1970s and 1980s, and with the Blockheads achieved cult success after a strong of classic albums and singles.
The Stiff Recordings vinyl box set contains the three albums recorded between 1977 and 1980, widely regarded as Ian's classic period.
The box includes 'New Boots and Panties', 'Do It Yourself' and 'Laughter'. Also includes bonus 4th LP including non-album singles 'Hit me With Your Rhythm Stick', 'Sex & Drugs & Rock & Roll' and 'Reason's To Be Cheerful Part 3'. Pressed on coloured 180gm Translucent coloured vinyl.