The Rubettes – Gold
The Rubettes
The Rubettes – Gold
The Rubettes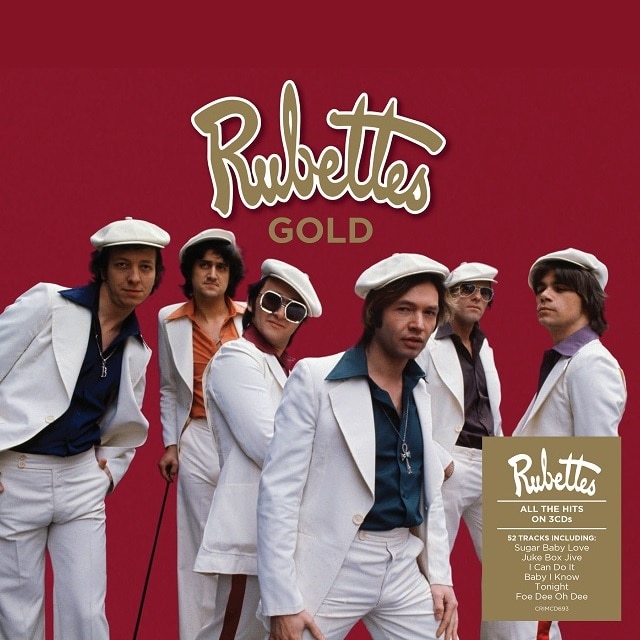 Release information
Release information
Label: Crimson Productions
• Format: CD
• Date: 28/05/2021
Cat#: CRIMCD693
• Barcode: 0654378069321
• Genre: Pop, Rock
Track Listing
Sugar Baby Love
Way Back In The Fifties
Rock Is Dead
Tonight
Rumours
For Ever
Rock & Roll Survival
Saturday Night
Juke Box Jive
The Sha Na Na Song
Something's Coming Over Me
I Can Do It
Don't Do It Baby
At The High School Hop Tonight
When You're Falling In Love
If You've Got The Time
Beggarman
Judy Run Run
Foe Dee Oh Dee
My Buddy Holly Days
Put A Back Beat To That Music
Play The Game
Little Darling
I'm Just Dreaming
Out In The Cold
Dark Side Of The World
Sign Of The Times
Dancing In The Rain
The Way You Live
You're The Reason Why
Julia
Summertime Rock 'N' Roll
Under One Roof
Ooh La La
Ladies Of Laredo - Radio Version
Allez Oop
Baby I Know
Rock 'N' Roll Queen
Come On Over
Cherie Amour
Sometime In Oldchurch
Goodbye Dolly Gray
Little 69
No No Cherie
When Hays Was Young
Movin'
Lola
Stay With Me
Kid Runaway
Shangri' La
Misbehavin'
One Way Traffic
About this release
Crimson Gold presents The Rubettes 'Gold', the only Rubettes compilation you'll ever need.
The Rubettes first release in 1974 was an instant smash hit, 'Sugar Baby Love' which reached #1 in the UK charts and stayed there for 5 weeks. The band continued to release many more hits and this new Gold title features a comprehensive overview of The Rubettes career.
The 'Gold' Collection includes 52 tracks; including 9 top 40 UK singles.
CD1 includes the UK #1 single 'Sugar Baby Love', 'Juke Box Jive' (No.3), 'I Can Do It' (No.7), 'Tonight' (No.12).
CD 2 includes 'Foe Dee O Dee' (No.15), 'You're The Reason Why' (No.28), 'Little Darling' (No. 30) and ' Under One Roof' (No.40). CD 3 includes 'Baby I Know' (No.10).