The Rocket Years
Kiki Dee
The Rocket Years
Kiki Dee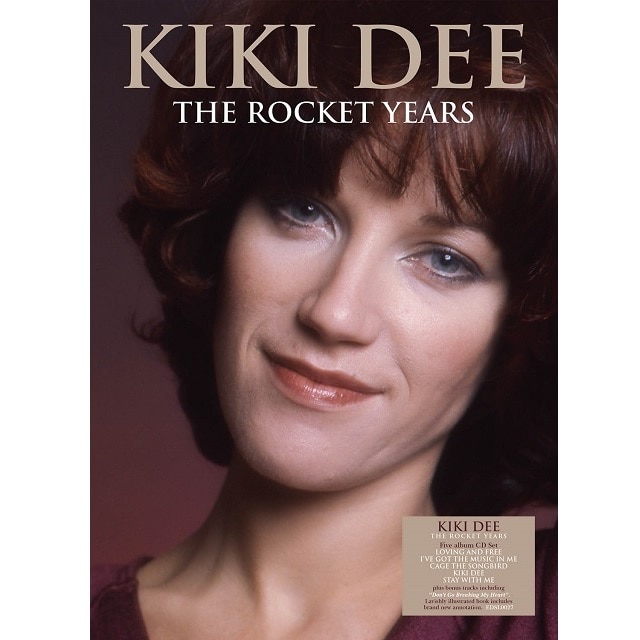 Release information
Release information
Label: Edsel
• Format: CD
• Date: 29/03/2019
Cat#: EDSL0027X
• Barcode: 740155723330
• Genre: Pop
Track Listing
Loving And Free
If It Rains
Lonnie And Josie
Travelling In Style
You Put Something Better Inside Of Me
Supercool
Rest My Head
Amoureuse
Song For Adam
Sugar On The Floor
The Last Good Man In My Life
Six Days On The Road
I've Got The Music In Me
Someone To Me
Step By Step
Water
Out Of My Head
Do It Right
Little Frozen One
Heart And Soul
You Need Help
Hard Luck Story
Everyone Should Have Their Way
Simple Melody
How Glad I Am
Peter
Cage The Songbird
Uphill Peace Of Mind
Prince Of Fools
Once A Fool
Bright Medallion
Chicago [original version]
Man After My Own Heart
Rock 'N' Roll Me Baby
First Thing In The Morning [original version]
Cry Like A Baby
A Change Is Gonna Come
Don't Go Breaking My Heart
Snow Queen
How Much Fun
Sweet Creation
Into Eternity
Standing Room Only
Bad Day Child
Chicago
Night Hours
Keep Right On
In Return
Walking
First Thing In The Morning
The Man Who Loved To Dance
One Step
Talk To Me
Don't Stop Loving Me
Dark Side Of Your Soul
Stay With Me
One Jump Ahead Of The Storm
You're Holding Me Too Tight
Love Is A Crazy Feeling
Safe Harbor
About this release
Kiki Dee's recording career began in 1963, when she was signed to the Fontana label. Despite releasing twelve singles, an album ("I'm Kiki Dee"), film and TV appearances and numerous foreign language versions of her singles, major success eluded her. The Motown label was the next to spot her vocal talents – she was the first female UK artist to be signed to the label. Recorded with Motown's finest, her sole album "Great Expectations" didn't chart, and Kiki Dee returned to her day job as backing vocalist for Dusty Springfield, Elton John and others (and even Robert Plant on his debut solo single).
When Elton started up his Rocket Records label in 1973, Kiki was his first signing, and he produced the first album "Loving And Free", utilising his own band and a "who's who" of UK session musicians. The single "Amoureuse" reached # 13, and Kiki's solo career finally took off. In 1974 she formed the Kiki Dee Band, and again hit the charts with the single and album "I've Got The Music In Me". In 1975 she recorded an album in LA, "Cage The Songbird" – for reasons that will be revealed in the extensive annotation in this book set, this album was shelved and did not see a release until 2008. It now takes its correct place in this collection of Kiki's recordings for the Rocket label.
The summer of 1976 saw Kiki occupy the UK # 1 singles spot for six weeks with her old friend Elton, with "Don't Go Breaking My Heart". It was also # 1 in the US, where it sold over a million copies. Further success came with two more albums for Rocket, "Kiki Dee" (1977) and "Stay With Me" (1978), featuring the singles "Chicago" and "First Thing In The Morning".
Containing all five albums and lavishly illustrated with photos and ephemera from Kiki's own collection, and with annotation by Alan Robinson based on a brand new interview, this media book package also features ten bonus tracks, including "Don't Go Breaking My Heart", and its B-side "Snow Queen", on CD for the first time outside Australia.