The Program
Marion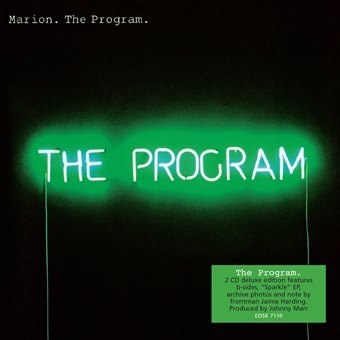 Release information
Release information
Label: Edsel
• Format: CD
• Date: 16/09/2016
Cat#: EDSK7110
• Barcode: 740155711030
• Genre: Alternative, Indie
Sub Genre: Britpop
Track Listing
The Smile
Miyako Hideaway (Full Length Mix)
Sparkle
Is That So?
What Are We Waiting For?
Strangers
The Powder Room Plan
The Program
All of These Days
Comeback
Speechless
We Love Everything
Minus You
Promise Q
The Present
Journey To The Centre
Our Place
Psycho Killer
The Only One For You [unreleased demo]
Sparkle [acoustic]
Miyako Hideaway [radio edit]
About this release
Following the completion of the gruelling yet highly successful eighteen-month 'This World And Body' World Tour, Marion started work on their second album. Their manager enlisted the help of Johnny Marr, originally to give his opinion on the material.
But by the end of one day's session, Johnny Marr had already become like a sixth member of Marion, and agreed to co-write and produce 'The Program'.
This 2 CD deluxe edition features the album, b-sides, and the "Sparkle" EP (issued outside Japan for the first time) plus a previously unreleased track, along with the lyrics and photos from the band's archive and a booklet note by frontman Jaime Harding.