The Other Side Of Chas & Dave (White Vinyl)
Chas & Dave
The Other Side Of Chas & Dave (White Vinyl)
Chas & Dave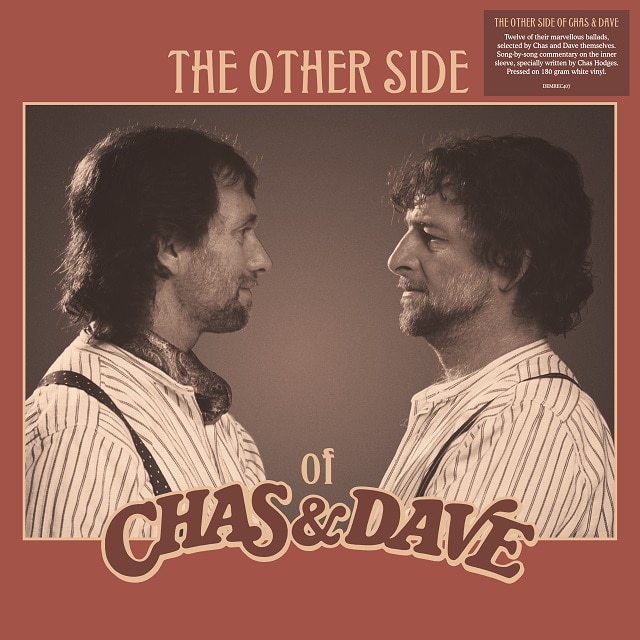 Release information
Release information
Label: Demon Records
• Format: Vinyl
• Date: 08/02/2019
Cat#: EDSL0020
• Barcode: 5014797899261
• Genre: Rock
Sub Genre: Folk Rock
Track Listing
Where Am I Gonna Find Ya?
I'm Going Back
I Can Get Along Without You
One O' Them Days
Sunday
There In Your Eyes
I Miss Ya Girl [new version]
Wish I Could Write A Love Song
Old Dog & Me [new version]
Flying
When Days Were Long (But Far Too Short)
Ain't No Pleasing You
About this release
So what is The Other Side of Chas & Dave? Put simply, it is their marvellous ballads. Not many people know just how many laid back beautiful songs they have written.
Chas's very sad passing in 2018 has made this release all the more poignant, as he had been planning it for a while. Here is how Dave describes the LP: "It had been on Chas's mind for quite some time to showcase our more laid-back numbers. A lot of people had never heard this side of what we do even though our biggest hit – 'Ain't No Pleasing You' – was a ballad. So when the opportunity came to put together this compilation, it became a labour of love for Chas. In fact, it was the last release that he was involved with and wrote sleeve notes for. Enjoy listening to our 'other side'".
The inner sleeve features many photos and Chas's commentary, and the record is pressed on 180 gram white vinyl.
Extra information about this release