The Music
The Music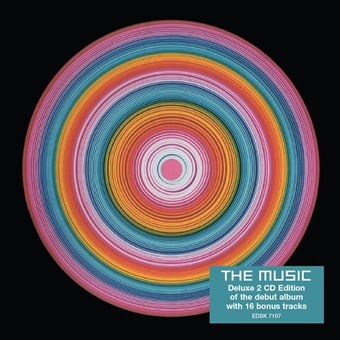 Release information
Release information
Label: Edsel
• Format: CD
• Date: 28/10/2016
Cat#: EDSK7107
• Barcode: 740155710736
• Genre: Alternative, Indie, Rock
Track Listing
The Dance
Take The Long Road And Walk It
Human
The Truth Is No Words
Float
Turn Out The Light
The People
Getaway
Disco
Too High
New Instrumental
Alone
You Might As Well Try To F**k Me
Karma
Treat Me Right On
Too High [2001 version]
The Walls Get Smaller
Dragon Song
Raindance
Human [live in Tokyo]
Take The Long Road And Walk It [live in Tokyo]
Disco [live in Tokyo]
Let Love Be The Healer
Life
Jag Tune
What's It For
About this release
Formed in Leeds, the band adopted the name Insense when they played their first gigs circa 1999, before changing their name to The Music. Both the NME and BBC deejay Steve Lamacq hailed The Music as the 'best unsigned band in Britain', and after a single on the Fierce Panda label, the band was signed to Hut Records.
Produced by Jim Abbiss (Sneaker Pimps, Massive Attack, Bjork, Arctic Monkeys, Kasabian and Adele), 'The Music' was issued in September 2002, achieving Gold Disc status in the UK, Japan and Australia.
Along with annotation, this expanded 2 CD digipak edition includes sixteen bonus non-album EP tracks and
b-sides.