The Menswear Collection (4CD Limited Signed Edition)
Menswear
The Menswear Collection (4CD Limited Signed Edition)
Menswear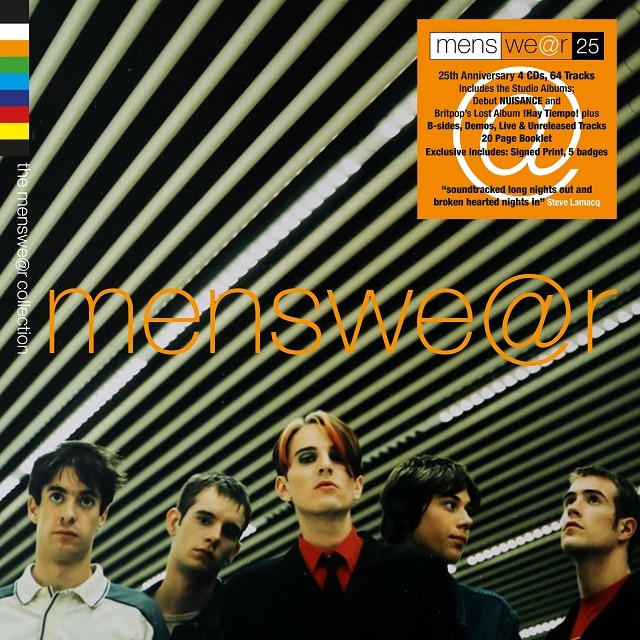 Release information
Release information
Label: Edsel
• Format: CD
• Date: 23/10/2020
Cat#: EDSL0063X
• Barcode: 5014797903760
• Genre: Pop, Rock
Sub Genre: Britpop
Track Listing
125 West 3rd Street
I'll Manage Somehow
Sleeping In
Little Miss Pinpoint Eyes
Daydreamer
Hollywood Girl
Being Brave
Around You Again
The One
Stardust
Piece Of Me
Stardust (Reprise)
Bones And Red Meat
I'll Manage Somehow (7" Version)
Second Hand
Gentlemen Jim
Around You Again (Live Session)
Back in the Bar
Satellite
Dubdreamer
Sleeping In (Radio Edit)
Sunday Driver
Now Is The Hour
26 Years
Sunlight on the Moon
This Will Be Our Year
Public Image
We Love You
Crash
Phat Kid Music
Hanging in the Blue Sky
The One (Live at Shepherds Bush Empire)
Sleeping In (Live at Shepherds Bush Empire)
Little Miss Pinpoint Eyes (Live at Shepherds Bush Empire)
Every Sounds A Melody
Wait For The Sun
Silver Tongue
Lower Loveday
Coming Home
I'll Sing For You
Insider The Dream
Holding Tight
Tomorrow
I'll Manage Somehow (EMI demo)
Daydreamer (EMI demo)
Stardust (EMI demo)
Can't Smile Without You (Childline album)
Daydreamer [student union remix] (White Label)
People I'm Hooch (Japanese advert)
You're Never Alone In Tokyo (Demo)
We Love You (Demo)
While He Slept (Demo)
Start A Fire (¡Hay Tiempo! Sessions)
Why I Love Her (¡Hay Tiempo! session)
Coming Back For More (¡Hay Tiempo! session)
Is This The Way? (¡Hay Tiempo! session)
Something For Nothing (¡Hay Tiempo! session)
You're Not Alone (¡Hay Tiempo! session)
She Makes Him (¡Hay Tiempo! session)
Weekday People (¡Hay Tiempo! session)
Pick Me Up On Your Way Down (¡Hay Tiempo! session)
Valium (¡Hay Tiempo! session)
Make A Start (¡Hay Tiempo! session)
About this release
This 4 CD box set features a signed photograph, 5 badges and a booklet with photography and interviews.
No band epitomised Britpop more than menswe@r. Singer Johnny Dean, guitarists Chris Gentry and Simon White, bassist Stuart Black and drummer Matt everitt formed in London in mid 1994, playing a handful of gigs that prompted a label bidding War and countless Magazine covers. They delivered a string of top 20 singles: 'I'll manage somehow', 'sleeping in', 'Stardust', 'being brave' And the undeniable Britpop classic 'daydreamer'.
While the speed of their success surprised some; their style, attitude and riotous live shows defined the times and they became one of the most popular bands of 1995. Menswe@r played their final show in 1998, but this box set illustrates just how much they packed into their short career. This comprehensive collection includes the first demos they ever recorded – lost until now; plus singles, b-sides, remixes, rarities, live tracks and a newly remastered version of their debut album, nuisance.
It also includes previously unheard demos and tracks written for their second album, 1998's hay tiempo! Only released in Japan, the record is included here in full – and Remastered for the first time ever.