The Jeremiah Records Collection
Hoyt Axton
The Jeremiah Records Collection
Hoyt Axton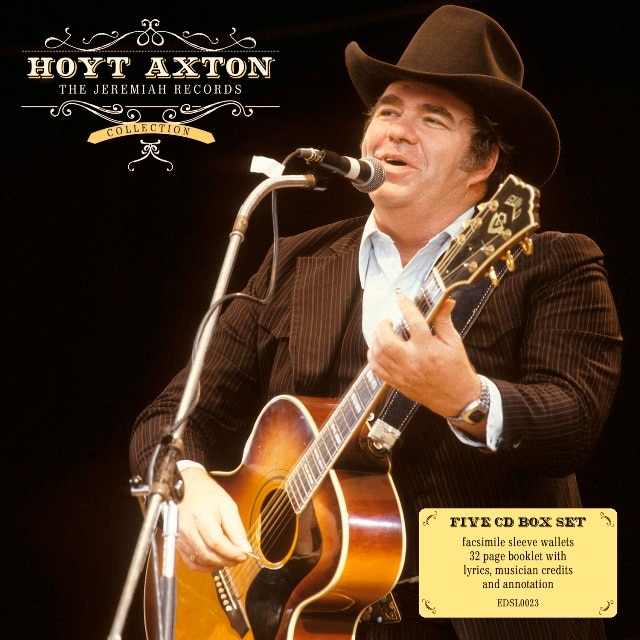 Release information
Release information
Label: Edsel
• Format: CD
• Date: 27/04/2018
Cat#: EDSL0023
• Barcode: 740155722333
• Genre: Country
Track Listing
A Rusty Old Halo
Della And The Dealer
The Hotel Ritz
So Hard To Give It All Up
Evangelina
Torpedo
Viva Pancho Villa
Wild Bull Rider
In A Young Girl's Mind
Gotta Keep Rollin'
Everybody's Goin' On The Road
Betty La Rue
Boozers Are Losers
Politicians
(When You Dance) You Do Not Tango
Smile As You Go By
Where Did The Money Go?
Some People Ride
Midnight In Memphis
Ease Your Pain
The Battle Of New Orleans
The House Song
Roanoke
Wild Bull Rider
Flash Of Fire
Boney Fingers
Della And The Dealer
When The Morning Comes
Evangelina
No No Song
Mel Tillis / Roger Miller Story
Lion In The Winter
Jealous Man
The Devil
A Rusty Old Halo
Bus Story
An Old Greyhound
Orange Blossom Special
Will The Circle Be Unbroken
Maybelline
Never Been To Spain
Joy To The World
She's Too Lazy To Be Crazy
Pistol Packin' Mama
I Walk The Line
Don't Fence Me In
There Stands The Glass
Warm Storms And Wild Flowers
He Played Real Good For Free
James Dean And The Junkman
Indian Song
Fearless The Wonder Dog
Spin Of The Wheel
Heartbreak Hotel
We Could've Been Sweethearts
Young Man
Mr Winchester's Gun
If You're A Cowboy
American Dreams
Mountain Right
Cowboys On Horses With Wings
I Collect Hearts
We Were Buccaneers
The Weight
Thank You, Lord
Blue Prelude
About this release
Few composers could list an array of artists as diverse as BB King, Steppenwolf, Elvis Presley, Joan Baez, Arlo Guthrie, John Denver, Waylon Jennings, The Crusaders, The Kingston Trio and Ringo Starr who have covered their songs. Hoyt Axton's best-known song 'Joy To The World', a # 1 hit for the American vocal band Three Dog Night in 1971, starts with the line "Jeremiah was a bullfrog, was a good friend of mine". Hence, after many albums with the Vee-Jay, Capitol, A&M and MCA labels through the 60s and 70s, when Axton started his own record label in 1979 he named it Jeremiah Records.
This 5 CD clamshell box set features all five Jeremiah Records albums in facsimile wallets, and along with a 32 page booklet featuring the lyrics, musician credits, and annotation.
The first album "Rusty Old Halo" features 'Della And The Dealer', a hit in both the US and the UK, as well as three more US country hits. Follow-up album "Where Did The Money Go?" (1980) featured more hits, while 1981's "Live" featured renditions of his songs made famous by others, like 'No No Song', 'Lion In The Winter', 'Never Been To Spain' and 'Joy To The World'. Released in 1982 and 1990, "Pistol Packin' Mama" and "Spin Of The Wheel" bookended Axton's TV and film career in the 80s, most notably in "Gremlins".
Axton's music al guests across the albums include Dr John, Stephen Stills, James Burton, Glenn D. Hardin, Jeff Baxter, Garth Hudson, Paul Butterfield, Bill Kirchen, and Byron Berline.