The Hollywood Years 1976-1978 (Clear Vinyl)
Leo Sayer
The Hollywood Years 1976-1978 (Clear Vinyl)
Leo Sayer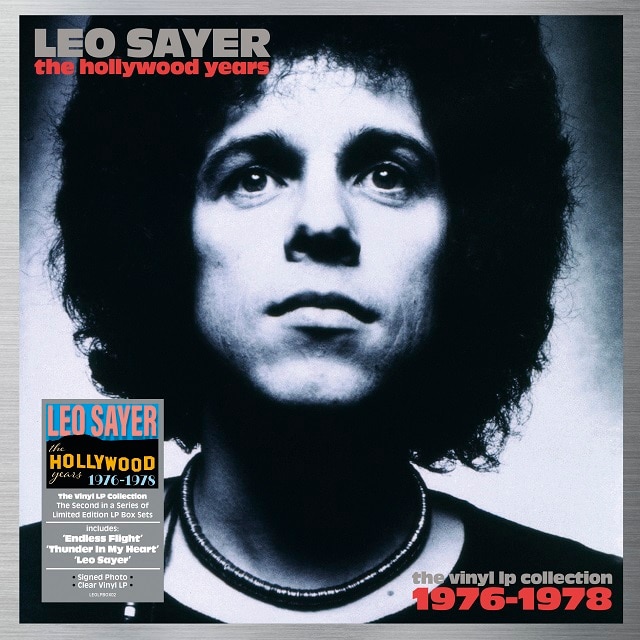 Release information
Release information
Label: Demon Records
• Format: Vinyl
• Date: 01/03/2019
Cat#: LEOLPBOX02
• Barcode: 5014797898325
• Genre: Disco, Pop
Track Listing
Hold On To My Love
You Make Me Feel Like Dancing
Reflections
When I Need You
No Business Like Love Business
I Hear The Laughter
Magdalena
How Much Love
I Think We Fell In Love Too Fast
Endless Flight
Thunder In My Heart
Easy To Love
Leave Well Enough Alone
I Want You Back
It's Over
Fool For Your Love
World Keeps On Turning
There Isn't Anything I Wouldn't Do
Everything I've Got
We Can Start All Over Again
Stormy Weather
Dancing The Night Away
I Can't Stop Loving You (Though I Try)
La Booga Rooga
Raining In My Heart
Something Fine
Running To My Freedom
Frankie Lee
Don't Look Away
No Looking Back
About this release
'The Hollywood Years 1976-1978' is the second of a series of three Vinyl LP box sets and comprises Leo's three studio albums. 'Endless Flight' (released 1976/UK #4) 'Thunder In My Heart' (released 1977/UK #8) and 'Another Year' (released 1978/UK #15) and marked a clear departure from his early albums.
Leo recorded these three albums with legendary producer Richard Perry, who brought in a variety of songwriters and collaborators to work on the projects with Leo; it was a venerable Who's Who of the record industry.
Each vinyl LP Box set in this Limited Edition release, will be pressed on heavyweight 180g clear vinyl and contain a signed 12"x12" print.
This project has been overseen by Leo Sayer, who remains one of the UK's great singer/songwriters of all time.
Recommended titles