Foster & Allen – The Gold Collection
Foster & Allen
Foster & Allen – The Gold Collection
Foster & Allen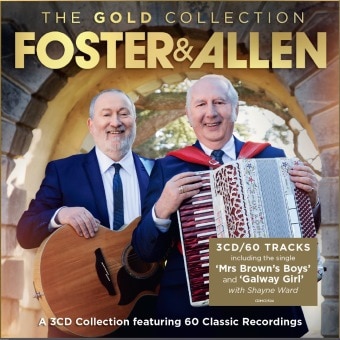 Release information
Release information
Label: Crimson Productions
• Format: CD
• Date: 03/03/2017
Cat#: CRIMCD594
• Barcode: 0654378059421
• Genre: Easy Listening
Track Listing
Mrs. Brown's Boys
Galway Girl (with Shayne Ward)
Forty Shades Of Green
The Wild Rover
Out West Medley
Crystal Chandeliers/Is Anybody Goin' To San Antone/Kiss An Angel Good Mornin'
I Walk The Line
I Fall To Pieces/Out Of My Mind/It Keeps Right On A Hurtin'
The Fields Of Athenry
Moonbeam Waltz Selection
The Mountains Of Mourne
Love Is Pleasing
Oh, Pretty Woman
The Fly
The Wedding Medley
I'll Tell Me Ma
I'll Take You Home Again Kathleen
Help Me Make It Through The Night
Walking The Streets In The Rain
The Birdie Song
A Bunch Of Thyme
Annie's Song/Lucille/It's Four In The Morning
I Will Love You All My Life
Blue Eyes Crying In The Rain
She
Medley: Irish Songs
Can't Help Falling In Love
The Green Glens Of Antrim
My Own Roscommon Town
Danny Boy
One Day At A Time (Medley): One Day At A Time/Mockingbird Hill/Busted
The Clock In The Tower
The Yellow Rose Of Texas
The Seven Wonders Of Fore
Come Back Paddy Reilly To Ballyjamesduff
Among The Wicklow Hills
Those Lazy Hazy Crazy Days Of Summer
Gentle Mother
After All These Years (original version)
The Last Waltz
The Golden Years
True Love (with Gloria Hunniford)
Unchained Melody
Under The Bridges Of Paris/Tulips From Amsterdam/Wonderful Copenhagen
Mona Lisa
Sweethearts in The Spring
When You Say Nothing At All
Spanish Eyes/Lady Of Spain/Isle Of Capri/Arrivederci Roma
Cottage By The Sea
Wait Till The Clouds Roll By
A Mother's Love's A Blessing
The Rose Of Mooncoin
Molly, My Lovely Molly
Medley: When It's Springtime In The Rockies/The Streets Of Laredo/Home On The Range
South Of The Border/The Wayward Wind/Distant Drums
Home, Boys, Home
Tiny Bubbles (Hua Li'i)/Blue Hawaii/A-L-O-H-A/Capanico
The Coast Of Malibar
You Got Gold
Maggie
About this release
Since the start of this millennium, Mick Foster and Tony Allen have sold almost 1.5 MILLION units in the UK.
Their new collection, "The Gold Collection", is a 60-track offering, on a 3CD set and includes their recent single 'Mrs. Brown's Boys' and 'Galway Girl', their duet with Coronation Street favourite Shayne Ward, along with more than twenty songs and medleys that have not been available for at least a dozen years; some of them much longer!
"The Gold Collection" really does go back into Foster & Allen's deep and rich catalogue, delivering some of those long forgotten recordings that made them such household names during the 1980s and 1990s.
Extra information about this release