The Fantasy Years 1979-1983 (Clear Vinyl)
Leo Sayer
The Fantasy Years 1979-1983 (Clear Vinyl)
Leo Sayer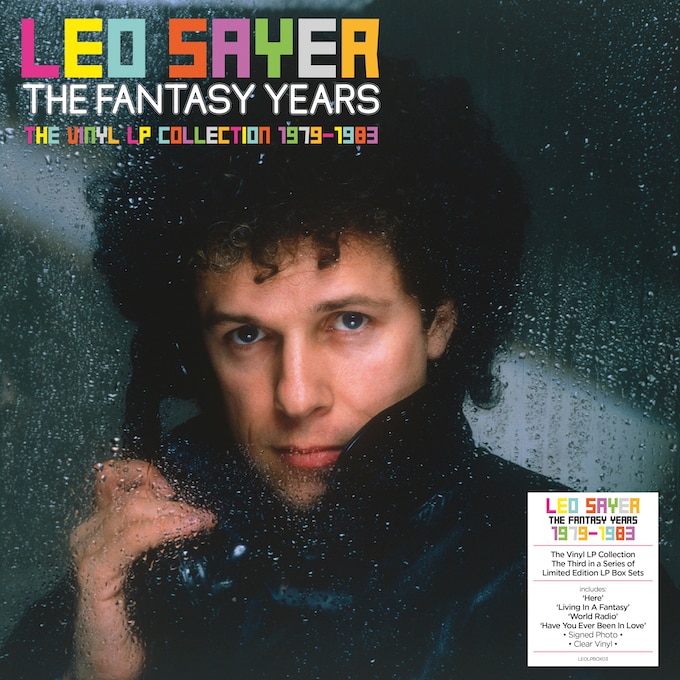 Release information
Release information
Label: Demon Records
• Format: Vinyl
• Date: 11/10/2019
Cat#: LEOLPBOX03
• Barcode: 5014797900332
• Genre: Disco, Pop
Track Listing
The World Has Changed
When The Money Runs Out
The End
Lost Control
An Englishman In The USA
Who Will The Next Fool Be
Work
Oh Girl
Ghosts
Takin' The Easy Way Out
Time Ran Out On You
Where Did We Go Wrong
You Win-I Lose
More Than I Can Say
Millionaire
Once In A While
Living In A Fantasy
She's Not Coming Back
Let Me Know
Only Foolin'
Heart (Stop Beating In Time)
Paris Dies In The Morning
Have You Ever Been In Love
Rumours
Heroes
'Til You Let Your Heart Win
The End Of The Game
Wondering Where The Lions Are
We've Got Ourselves In Love
World Radio
'Til You Come Back To Me
Sea Of Heartbreak
More Than I Can Say
Darlin'
Don't Wait Until Tomorrow
How Beautiful You Are
Orchard Road
Aviation
Heart (Stop Beating In Time)
Your Love Still Brings Me To My Knees
Have You Ever Been In Love
Wounded Heart
Love Games
Never Had A Dream Come True
About this release
'The Fantasy Years 1979-1983' comprises Leo's four studio albums. 'Here' (released 1979/UK #44), 'Living In A Fantasy' (released 1980/UK #15) which included the #2 hit single 'More Than I Can Say', 'World Radio' (released in 1982/UK # 30) and 'Have You Ever Been In Love' (released 1983/UK #15) with the title track hitting the UK Top 10 and showed how Leo collaborated with other producers, as his career progressed into the 1980s.
Leo recorded these four albums with a variety of new producers including Arif Mardin, Alan Tarney and Christopher Neil, as well as being reunited with David Courtney. The Bee Gees specifically wrote 'Heart (Stop Beating In Time)' for Leo.
Each vinyl LP Box set in this Limited Edition release, will be pressed on heavyweight 180g clear vinyl and contain a signed 12″x12″ print.
As with the previous two LP box sets, Leo Sayer has overseen and been creatively involved with this project and judging by the reviews from many of his sold-out concerts, he remains one of the UK's great singer/songwriters and performers of all time.
Recommended titles