The Elektra Albums – Volume 2 (1970-1984)
Judy Collins
The Elektra Albums – Volume 2 (1970-1984)
Judy Collins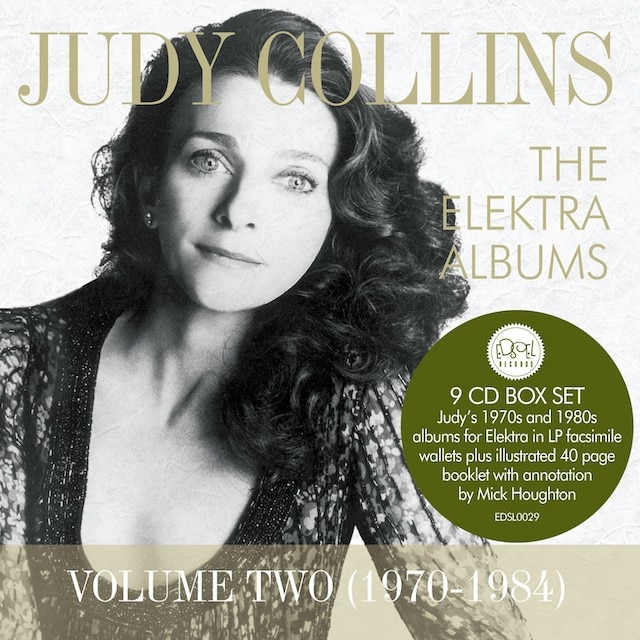 Release information
Release information
Label: Edsel
• Format: CD
• Date: 20/09/2019
Cat#: EDSL0029
• Barcode: 740155722937
Sub Genre: Folk Rock
Track Listing
A Song For David
Sons Of
The Patriot Game
Prothalamium
Oh, Had I A Golden Thread
Gene's Song
Farewell To Tarwathie
Time Passes Slowly
Marieke
Nightingale I
Nightingale II
Simple Gifts
Amazing Grace
Joan Of Arc
Four Strong Winds
Vietnam Love Song
Innisfree
Song For Judith (Open The Door)
All Things Are Quite Silent
Easy Times
Chelsea Morning
Famous Blue Raincoat
Just Like Tom Thumb's Blues
Cook With Honey
So Begins The Task
Fishermen Song
The Dealer (Down And Losin')
Secret Gardens
Holly Ann
The Hostage
Song For Martin
Ché
The Moon Is A Harsh Mistress
Angel Spread Your Wings
Houses
The Lovin' Of The Game
Song For Duke
Send In The Clowns
Salt Of The Earth
Brother, Can You Spare A Dime
City Of New Orleans
I'll Be Seeing You
Pirate Ships
Born To The Breed
Bread and Roses
Everything Must Change
Special Delivery
Out Of Control
Plegaria A Un Labrador (Prayer To A Laborer)
Come Down In Time
Spanish Is The Loving Tongue
I Didn't Know About You
Take This Longing
Love Hurts
Marjorie
King David
Hard Times For Lovers
Marie
Happy End
Desperado
I Remember Sky
Starmaker
Dorothy
I'll Never Say Goodbye [Theme from the Universal Picture "The Promise"]
Through The Eyes Of Love [Theme from the Columbia Picture "Ice Castles"]
Where Or When
Running For My Life
Bright Morning Star
Green Finch And Linnet Bird
Marieke
Pretty Women
Almost Free
I Could Really Show You Around
I've Done Enough Dyin' Today
Anyone Would Love You
The Rainbow Connection
This Is The Day
Wedding Song
Great Expectations
The Rest Of Your Life
Grandaddy
It's Gonna Be One Of Those Nights
Memory
Sun Son
Mama Mama
Drink A Round To Ireland
Angel On My Side
Don't Say Goodbye Love
Only You
Sweetheart On Parade
Everybody Works In China
Yellow Kimono
From Where I Stand
Home Again [with T.G. Sheppard]
Shoot First
Don't Say Love
Dream On
The Best Is Yet To Come
About this release
• This collection gathers together the nine albums that Judy Collins recorded during the 70s and 80s. They were all made for Jac Holzman's farsighted Elektra Records, a label she helped to shape in the 60s in her first decade as a recording artist through her adventurous spirit. Her forte was imaginatively interpreting songs by her peers and she helped launch the careers of Leonard Cohen, Joni Mitchell, Phil Ochs, Gordon Lightfoot, Tom Paxton, Randy Newman, Jacques Brel, Donovan, Sandy Denny and Bob Dylan.
She continued this trend with her first album of the 70s, "Whales & Nightingales", although the biggest song on it dated from 1779. Originally charting at # 5 in the UK singles chart, Judy's acappella version of "Amazing Grace" remained in the UK chart for two years.
There were many more notable recordings: 1975's "Judith" features her definitive version of the Stephen Sondheim classic "Send In the Clowns", which reached # 6 on the UK singles chart. And her last Elektra album starts with her cover of Yazoo's "Only You".
The artwork has been put together by acknowledged Elektra collector Phil Smee. The albums are in CD-sized facsimiles of the original sleeves, along with a booklet that compiles the credits and liner notes from those sleeves plus a note by Mick Houghton, author of "Becoming  Elektra: The True Story of Jac Holzman's Visionary Record Label".
This box contains these eight albums: Whales & Nightingales, Living, True Stories And Other Dreams, Judith, Bread And Roses, Hard Times For Lovers, Running For My Life, Times Of Our Lives, and Home Again.
Recommended titles