Sources: The Easy Street Records Anthology
Various Artists
Sources: The Easy Street Records Anthology
Various Artists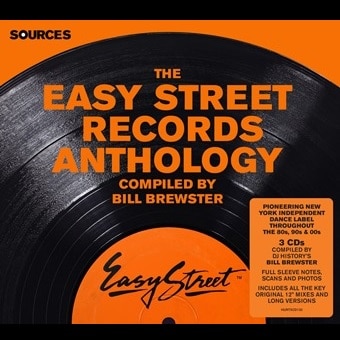 Release information
Release information
Label: Edsel
• Format: CD
• Date: 23/02/2015
Cat#: HURTXCD133
• Barcode: 5014797021334
• Genre: Dance
Track Listing
Share The Night World Premiere Original Club 12" Mix
On The One Lukk ft. Felicia Collins Original Club Vocal 12" Mix
Please Don't Break My Heart The Affair ft. Alyson Original Club Vocal 12" Mix
Go Deh Yaka (Go To The Top) Monyaka Original Club 12" Mix
Ayiko Bia Africali Original Club Instrumental 12" Mix
(Don't Be) Lost For Words Main Attraction Original Club Vocal 12" Mix
Body Work Hot Streak Original Club Vocal 12" Mix
One For The Dub Sleeque Original Dub 12" Mix
Too Much MSQII ft. Jeffrey Cheatham Original Club 12" Mix
Main Thing Shot ft. Kim Marsh Original Club Vocal 12" Mix
Holding Back Paradise Girls Original Paul Simpson Dubmental 12" Mix
Ma Foom Bey Cultural Vibe Original Love Chant Club 12" Mix
You Don't Know Serious Intention Original Limited Edition Special 12" Remix
Power Cultural Vibe feat Glenn 'Sweety G' Toby Original Power Dub 1 12" Mix
Sometimes Love In-Sync ft. Jerry Edwards Original Ozone Club 12" Mix
Treat Her Sweeter The Paul Simpson Connection Original Club 12" Mix
In & Out Of My Life Adeva Original S-Man Supreme Club 12" Mix
How Do You See Me Now? Extortion ft. Dihan Brookes Original Club 12" Remix
I'm Housin' It Lord KCB Original Dub 12" Mix
Voices In My House Hardhouse Original Club 12" Mix
This Way, That Way Pandella Original Komis Dub 12" Mix
It's Too Late Kelli Sae Original Cool Dub 12" Mix
Check This Out Hardhouse Original Club 12" Mix
I Like You Cassio Original Club 12" Mix
Get By Gayland Original Instrumental Club 12" Mix
Saturdays Alexander Hope Original Saturday Nite Club 12" Mix
Goin' Through The Motions Keisha Jenkins Original Motion Club 12" Mix
Baby Love Cassio Original Chord Club 12" Mix
Flute Song Moods Of Madness Original Club 12" Mix
Deeper Toni Martin Original Blaze Deep Club 12" Mix
I Never Thought I'd See You Again Cassio Original 48K Club 12" Mix
Hideaway De'Lacy Original Deep Dish Club 12" Remix
Lover Blas D'Moure Original Club Vocal 12" Mix
That Look De'Lacy Original Hani's Club Look 12" Mix
About this release
Sources is a brand new series which will examine the output of a number of extremely influential independent U.S. labels throughout the 1970s, 1980s and 1990s.
In an age where corporate anonymity reigns supreme and music is being treated like aural wallpaper, the Sources series will go back to a time when record labels really meant something via their A&R policies, their ground-breaking releases, their everyday modus-operandi and their general philosophies.
Bill Brewster, co-founder of the influential DJ History website and forum and author of the acclaimed "Last Night A D.J. Saved My Life" has compiled the sleeve notes for the series. The first six releases will concentrate on 6 New York independent labels which have each been massively influential in the evolution of Dance Music over the last 30+ years – Easy Street, Sleeping Bag, Fresh, Sam,Streetwise and P&P.Each 3 x CD package is full of lovingly re-mastered original 12" mixes as selected by Bill. These will include many tracks which have never made it to CD before! All notes and scans will be included in a 16 page colour booklet which fits beautifully within the 3CD superior digipack.
The first Sources package comes from one of the most consistent underground dance labels in history – East Street Records from New York. Easy Street hit the ground running in the early 1980s with two consecutive international hits in row with the compulsive reggae-funk of Monyaka's "Go Deh Yeka" and the uptempo break dancing gem, Hot Streak's "Body Work". Then, in the 90s, came two more smashes with Adeva's garage anthem "In And Out Of My Life" and De'Lacy's dance-floor monster "Hideaway". However, the real story of Easy Street was their consistent ability to gauge the mood of the dance-floor with numerous HUGE underground classics which read like a who's who of dance music history over the last 3 decades – Paul Simpson, Todd Terry and Blaze are just a handful of the names which have graced the Easy Street label over the years. The underground hits poured out relentlessly – "Please Don't Break My Heart", "Main Thing", "Share The Night", "Ma Foom Bey", "You Don't Know", "Treat Her Sweeter", "Saturdays" and "Deeper" to name a handful, all of which are included on here. An essential package for anyone who wants to re-experience the culture of the New York dancefloors throughout the last three decades via one of the hippest labels in dance music history. Easy Street Records we salute you in style!