The Contino Sessions
Death In Vegas
The Contino Sessions
Death In Vegas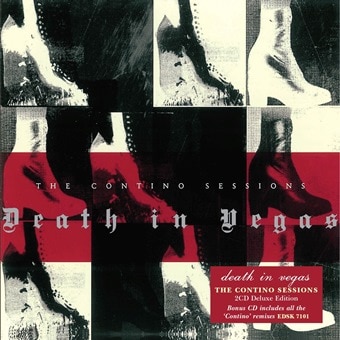 Release information
Release information
Label: Edsel
• Format: CD
Cat#: EDSK7101
• Barcode: 740155710132
• Genre: Rock
Sub Genre: Electronica
Track Listing
Dirge
Soul Auctioneer
Death Threat
Flying
Aisha
Lever Street
Aladdin's Story
Broken Little Sister
Neptune City
Blood Yawning
One More Time
Luther's Funk
Aisha (edit)
Dirge (#2)
Dirge (Slam Mix)
Dirge (The Micronauts Remix)
Dirge (The Micronauts Bonus Beats)
Dirge (Cossack Apocalypse Mix)
Dirge (Adrian Sherwood Remix)
Neptune City (Concrete Funk 1)
Neptune City (Concrete Funk 2)
Aisha (Nightclubbing)
Aisha (Nightclubbing Instrumental)
About this release
'The Contino Sessions' is the second album by Death In Vegas. Released in September 1999, it saw Richard Fearless with a new partner in Tim Holmes.
Once again an experimental and challenging work, the time was right for Death In Vegas and the album charted in the Top Twenty, with the single 'Aisha' hitting the Top Ten.
Guest vocalists Iggy Pop, Bobby Gillespie and Jim Reid all put in staggering performances, but it is Dot Allison's vocal on 'Dirge' that has become the album's signature tune.
This special 2CD set brings together on a bonus disc all the 'Contino Mixes' from those sessions. Liner notes by renowned music journalist Andrew Perry include interview with Richard Fearless.