The Complete Willie And The Poor Boys
Bill Wyman
The Complete Willie And The Poor Boys
Bill Wyman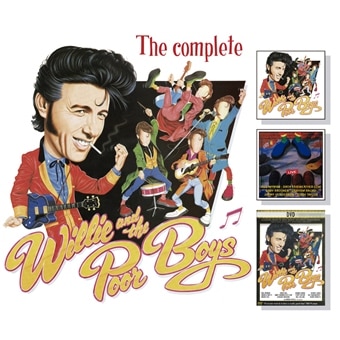 Release information
Release information
Label: Edsel
• Format: CD, Digital,
• Date: 07/08/2015
Cat#: EDSG8062
• Barcode: 740155806231
• Genre: Blues, Rock
Track Listing
Baby Please Don't Go
Can You Hear Me
These Arms Of Mine
Revenue Man
You Never Can Tell
Slippin' And Slidin'
Saturday Night
Let's Talk It Over
All Night Long
Chicken Shack Boogie
Sugar Bee
Poor Boy Boogie
High School Confidential
Tear It Up
Baby Please Don't Go
Medley: Ooh Poo Pah Doo / Rockin' Pneumonia & The Boogie Woogie Flu
Mystery Train
Chicken Shack Boogie
Stagger Lee
What'd I Say
Red Hot
Lovin' Up A Storm
Medley: Poor Boy Boogie / Hound Dog / Shake Rattle & Roll / Looking For Someone To Love
Land Of 1,000 Dances
Poor Boy Boogie
You Never Can Tell
Chicken Shack Boogie
Let's Talk It Over
All Night Long
Saturday Night
Baby Please Don't Go
These Arms Of Mine
Making Of
These Arms Of Mine [with Paul Rodgers and Jimmy Page]
About this release
In November 1984, Bill Wyman got together a group of well-known musicians to record an album (CD 1 of this package) of rock'n'roll numbers to help the Ronnie Lane Appeal for ARMS. The band was called Willie And The Poor Boys and the fantastic line-up included Charlie Watts, Bill Wyman, Geraint Watkins, Mickey Gee and Andy Fairweather Low, plus Ray Cooper, Jimmy Page, Willie Garnett, Chris Rea, Steve Gregory, Paul Rodgers, Kenney Jones, Henry Spinetti and Terry Williams. CD 2 is a Willie And The Poor Boys live album, recorded in Sweden in 1992.
On 11th and 12th March 1985, the core members of the band, along with actors, dancers and additional star guests, including Ringo Starr, turned up at Fulham Town Hall to make a film of a Willie And The Poor Boys rock'n'roll concert (the DVD in this package). The DVD also features a documentary about the making of the film, and a bonus video for 'These Arms Of Mine' featuring Paul Rodgers and Jimmy Page.
Continuing our work on Bill Wyman's recordings, this special digipak edition is the first time that the two albums have been combined with the DVD in one package. Includes annotation by David Wells.
CD1 – Willie And The Poor Boys
CD2 – Willie And The poor Boys: Live
DVD – Willie And The Poor Boys: The Movie and Bonus Documentary: The making Of Willie And The Poor Boys and a bonus video 'These Arms Of Mine'