The Complete Invictus Studio Recordings 1969-1978
Chairmen Of The Board
The Complete Invictus Studio Recordings 1969-1978
Chairmen Of The Board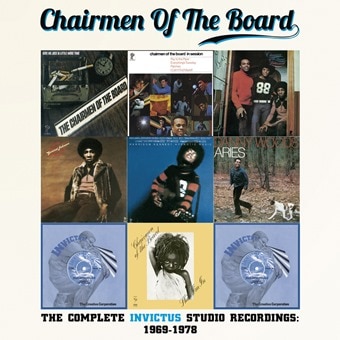 Release information
Release information
Label: Edsel
• Format: CD
• Date: 04/08/2014
Cat#: COTBOX01
• Barcode: 5014797890794
• Genre: R&B and Soul
Track Listing
Give Me Just A Little More Time
Come Together
Bless You
Patches
Since The Days Of Pigtails (And Fairy Tales)
I'll Come Crawling
(You've Got Me) Dangling On A String
Bravo, Hooray
Didn't We
Feelin' Alright?
My Way
Tricked & Trapped (By A Tricky Trapper)
Chairmen Of The Board
Everything's Tuesday
Pay To The Piper
Twelfth Of Never
All We Need Is Understanding
Patches
It Was Almost Something
Bridge Over Troubled Water
Hanging On To A Memory
I Can't Find Myself
When Will She Tell Me She Needs Me
Children Of Today
Men Are Getting Scarce
So Glad You're Mine
Working On A Building Of Love
I'm A Sign Of Changing Times
Elmo James
I'm On My Way To A Better Place
Bittersweet
Saginaw County Line
Weary Traveler
Everybody Party All Night
Skin I'm In
Morning Glory
Life & Death Pt. I
White Rose (Freedom Flower)
Life & Death Pt. II
Let's Have Some Fun
Love At First Sight
Only Love Can Break A Heart
Live With Me, Love With Me
Finder's Keepers
General Johnson - Saginaw County Line
General Johnson - God's Gift To Man
General Johnson - It Was Almost Something
General Johnson - Every Couples' Not A Pair
General Johnson - All We Need Is Understanding
General Johnson - Everything's Tuesday
General Johnson - I Never Get Tired Of You
General Johnson - My Credit Didn't Go Through
General Johnson - Things Are Bound To Get Better Later On
General Johnson - Mary Lou Thomas
Harrison Kennedy - Hypnotic Music
Harrison Kennedy - Closet Queen
Harrison Kennedy - Night Comes Day Goes
Harrison Kennedy - Sunday Morning People
Harrison Kennedy - Gimme A Glass Of Water
Harrison Kennedy - Come Together
Harrison Kennedy - You Hurt Your Mother Again
Harrison Kennedy - Up-The Organisation
Harrison Kennedy - Children Of Today
Danny Woods - Everybody's Got A Song To Sing
Danny Woods - Let Me Ride
Danny Woods - Roller Coaster
Danny Woods - Try On My Love For Size
Danny Woods - It Didn't Take Long
Danny Woods - Working On A Building Of Love
Danny Woods - Funny How Time Slips Away
Danny Woods - Two Can Be As Lonely As One
Danny Woods - I've Been Loving You Too Long (To Stop Now)
Danny Woods - Danny Boy
General Johnson - Savannah Lady
General Johnson - I'm In Love Darling
Chairmen Of The Board - Men Are Getting Scarce
Chairmen Of The Board - Hanging On To A Memory
Chairmen Of The Board - Elmo James
Chairmen Of The Board - Bittersweet
Chairmen Of The Board - Let Me Down Easy
Danny Woods - Roller Coaster
Chairmen Of The Board - Everybody's Got A Song To Sing
Danny Woods - Everybody's Tippin'
Harrison Kennedy - Up-The Organisation (Instrumental)
Chairmen Of The Board - Finder's Keepers (Instrumental)
Chairmen Of The Board - Finder's Keepers (Vocal)
General Johnson - Only Time Will Tell
General Johnson - Only Time Will Tell (Instrumental)
Chairmen Of The Board - Skin I'm In
Chairmen Of The Board - Everybody Party All Night
Chairmen Of The Board - You've Got Extra Added Power In Your Love
Chairmen Of The Board - Someone Just Like You
Chairmen Of The Board - Come On In And Dance
Chairmen Of The Board - What's The Use (first released 2014)
Chairmen Of The Board - Where There Is Faith, There Is Hope
Chairmen Of The Board - You've Got Me Dangling On A String (Tom Moulton remix)
12. Chairmen Of The Board Give Me Just A Little More Time (Tom Moulton Remix)
About this release
Motown's legendary songwriting/production team, Holland-Dozier-Holland, left the fold in 1967, to establish their own Invictus/Hot Wax group of labels.
They had worldwide hits with their flagship act, Chairmen Of The Board, debuted the first album by Parliament, as well as scoring a UK #1 with Freda Payne's 'Band of Gold.
Chairmen Of The Board were unusual at the time, with all the group members being featured vocalists in its line-up.
This 9CD, 97-track anthology includes Chairmen Of The Board's four studio albums for Invictus, as well as the Invictus solo albums released by General Johnson, Danny Woods and Harrison Kennedy.
The two bonus discs include alternate versions, non-album singles and selected mixes, including two Tom Moulton remixes of their two biggest UK hits 'Give Me Just A Little More Time' and '(You've Got Me) Dangling On A String', which were first released in 2014.
The 36-page booklet includes a 6,500+ word liner note by Dean Rudland.
CD 1       GIVE ME JUST A LITTLE MORE TIME
CD 2       IN SESSION
CD 3       BITTERSWEET
CD 4       SKIN I'M IN
CD 5       GENERALLY SPEAKING
CD 6       HYPNOTIC MUSIC
CD 7       ARIES
CD 8       BONUS TRACKS 1970-1973
CD 9       BONUS TRACKS 1973-2014