PJ & Duncan Vs Ant & Dec: The Collection
PJ & Duncan / Ant & Dec
PJ & Duncan Vs Ant & Dec: The Collection
PJ & Duncan / Ant & Dec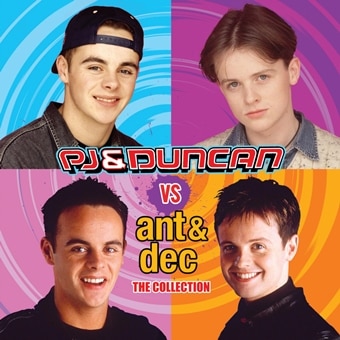 Release information
Release information
Label: Edsel
• Format: CD, Digital
• Date: 06/10/2014
Cat#: EDSX3026
• Barcode: 740155302634
• Genre: Pop
Track Listing
Let's Get Ready To Rhumble - PJ & Duncan
U Krazy Katz - PJ & Duncan
Shout - Ant & Dec
Our Radio Rocks - PJ & Duncan
Stepping Stone - PJ & Duncan
Tonight I'm Free - PJ & Duncan
Stuck On U - PJ & Duncan
Better Watch Out - Ant & Dec
If I Give You My Number - PJ & Duncan
Falling - Ant & Dec
Perfect - PJ & Duncan
Eternal Love - PJ & Duncan
Why Me? - PJ & Duncan
When I Fall In Love - Ant & Dec
We're On The Ball - Ant & Dec
All I Have To Do Is Dream - PJ & Duncan
Gonna Be Alright - Ant & Dec
I'm A Loser - PJ & Duncan
Boom There She Was - PJ & Duncan
Why Me? - PJ & Duncan
Let's Get Ready To Rhumble - PJ & Duncan
If I Give You My Number - PJ & Duncan
Eternal Love - PJ & Duncan
Our Radio Rocks - PJ & Duncan
Stuck On U - PJ & Duncan
U Krazy Katz - PJ & Duncan
Perfect - PJ & Duncan
Stepping Stone - PJ & Duncan
Better Watch Out - Ant & Dec
When I Fall In Love - Ant & Dec
Shout - Ant & Dec
Falling - Ant & Dec
About this release
Before they became the nation's favourite TV presenters Ant & Dec had a pop career.
Launched from the TV show Byker Grove as PJ & Duncan then Ant & Dec, they had a run of hits from 1994 to 2002.
This CD + DVD features all their hits and selected promo videos. Includes the massive 2013 number 1 – "Let's Get Ready To Rhumble" and the 2002 England song "We're On The Ball".